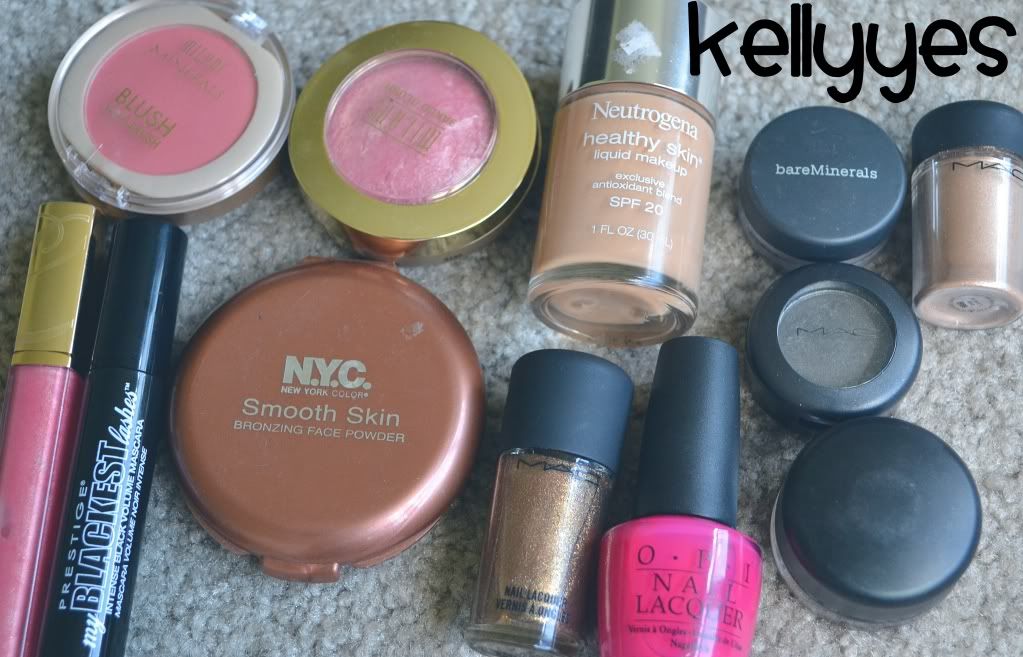 i know, i know. really late. but i thought id post my july faves anyway...please forgive me!
milani blushes
most of the time i am so absorbed in using my nars blushes, but this month i actually kept reaching for milani. the ones pictured here are mai tai (matte pinky coral) and dolce pink (part of the baked line that i blogged about
HERE
). mai tai is really great, i talked about this in
my last vain rambling.
as for the baked blushes, i have been reaching for all the colors i have to pair with matte blushes. adds such a nice glow from within your own skin. i have been skipping highlighting this whole month practically since ive been doing this...
neutrogena healthy skin liquid makeup
i usually dont wear foundation (more of a msfn girl...brush n go!) but i am trying to use up the ones i did buy on a whim a while back. this is the shade that matches me best right now and i actually have been really enjoying using this foundation. it doesnt have a bad smell, it applies nicely, and i like the overall finish (not too matte, i hate when foundations are matte). once i am done with this guy i dont think i will be repurchasing just because this foundation isnt the best for oily skin (i get oily in my cheeks and nose.) and plus i think there are honestly probably much better products out there. i am kinda a newbie when it comes to foundations...so my oily skinned ladies...what are your fave foundations? id like to hear...
bareminerals e/s in nude beach
this eye shadow is really nice. i am glad i picked it up. if you dont like shimmer, you probably wont like this though. it is a nice cool, light taupe grey. if you are at a counter i urge you to swatch it. i gasped when i did haha. i really like putting this in the inner corners of my eyes or on top of mac constructivist pp with a grey shadow in the crease. i hate that this is a loose mineral e/s though! so messy. if they made a pressed version i would get it instead...

mac pigment in blonde's gold
i have been using this like crazy ever since i got it in my
swap
. i did a look with it on
HERE
. really pretty pale gold that looks like a beautiful tarnished gold when paired with a brown base (quite natural pp, groundwork, or constructivist are usually what i use.)

mac e/s in hocus pocus
i have been LOVING this e/s. i am so glad i picked it up from the blogger's obsession collection. i use it in the crease, as liner, smudged under the lash line...you name it. really pretty shimmery gunmetal color that is pigmented. it is similar to the grey in the nars eurydice duo, if you were wondering. not exact, but similar (eurydice grey is a litttttle more blue. HP more brown).
mac constructivist pp
absolutely been using this like crazy. i think i already mentioned it in this post twice. perfect base for so many colors (cool greys, shimmery golds, browns...you name it!) i have to stop myself from using this and show my other pp's some love. they feel neglected, i know it. if you want to see a swatch of it, check out my paint pot post
HERE
.
opi koala berry
love this shade. i would go as far as to say it is one of my favorite nail polishes of all time. such a pretty magenta pink shade. my toes were permanently this color all of july.
mac mercenary
i loved this shade on my fingers. it just went with everything i wore. i also got this in my swap craze.
nyc sunny bronzer
this got a lot of love from me simply because i am ALMOST DONE WITH IT. that is right...i see more pan than product. i have only finished 1 product before out of all my collection (msfn) so this is HUGE people. i like this bronzer, but i wont be repurchasing. i feel like there are much better products out there, plus i have SO MANY BRONZERS. i need to finish more up. and i want to try out soleil de tan de chanel....and some dior bronzers. but if you are looking for a cheap matte alternative, i would recommend this.
prestige my blackest lashes
MY FAVORITE THING THIS MONTH. really it is amazing. heard about this from
sandra
and i am so glad i tried it. i got it at ulta for like 6 bucks, you cant go wrong. it is definitely my favorite drugstore mascara. i am seriously considering never buying any drugstore mascara besides this again. very black, doesnt flake off, easy to remove, and GIVES ME VOLUME. plus the formula is just as good right when you open the tube until a month later (still using it now and it is performing the same). the ONLY thing i will complain about is that it DOES tend to clump while applying if you arent careful. but i am willing to overlook that since i LOVE the results it gives me and loreal voluminous clumps MUCH worse than this. TRY IT if you see it. really, if you hate it, it is only a $6 loss so i think it is worth it to try out.
estee lauder impulsive coral gloss
been loving this gloss. this color is super flattering on my skintone. and i love the formula! not sticky and doesnt give me those gross lip rings.
EL compulsive coral on my lips. dont mind the little hair! :(
what are your favorite products this month? have you tried any of these and love them too? oily skinned ladies/gentlemen let me know your fave foundations! id love to hear your recs....