lately i have been absolutely obsessed with le metier de beaute. i feel like they have exploded in the blogging atmosphere and i keep hearing about their products everywhere...ESPECIALLY their kaleidoscopes and eye shadows.
these are pretty exclusive items. they are usually limited edition and go online (bergdorf goodman, neiman marcus, and nordstrom are some of the places i have seen that sell LMdB online) for a very short period and then disappear due to demand.
LMdB is a very customer service friendly brand. for example, they interact with their followers on twitter. i was lamenting on my twitter how the splendid frost and le cirque kaleidoscope werent availble online anymore for purchase and they promptly solved my woes by giving me two counter's contact information where i would be able to purchase them over the phone. impressive!
after getting the information, i was planning on getting one eventually when i could justify splurging on such a luxurious item (like i need anymore eye shadows!) but i am blessed with such a great friend because my best friend heard how obsessed i was with these kaleidoscopes and ordered it for me as a present! i know...i have the greatest best friend ever, right?! i ended up getting le cirque:
le metier de beaute kaleidoscope in "le cirque"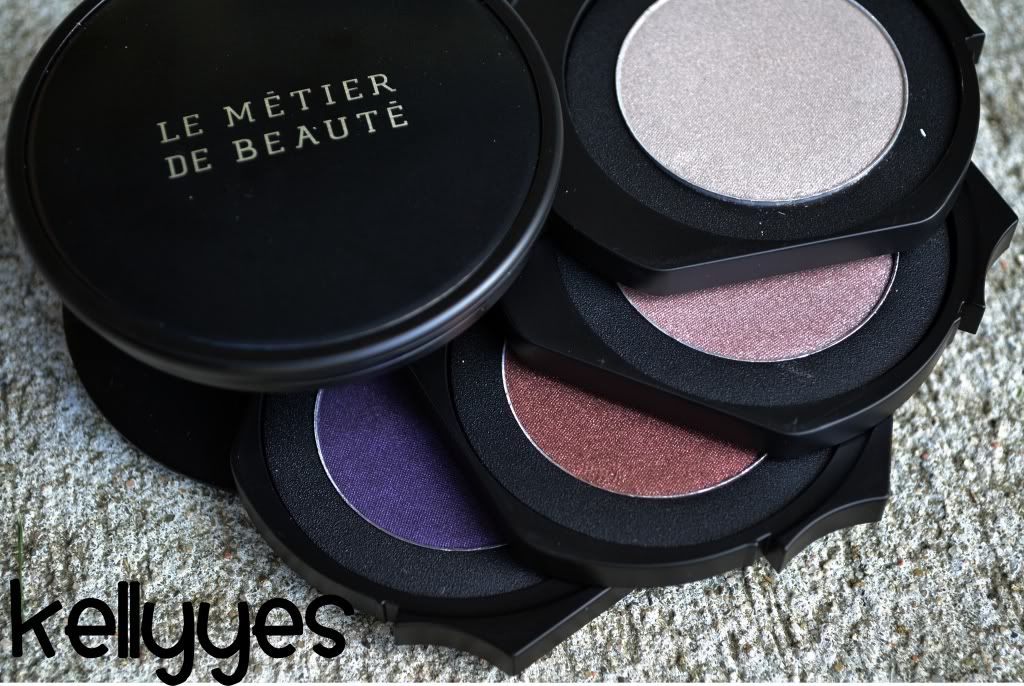 the pans come stacked on top of each other and swivel out in layers. there is also a mirror on top. (i didnt picture this, sorry!) handy for when you want to travel with the kit.
Flamboyantes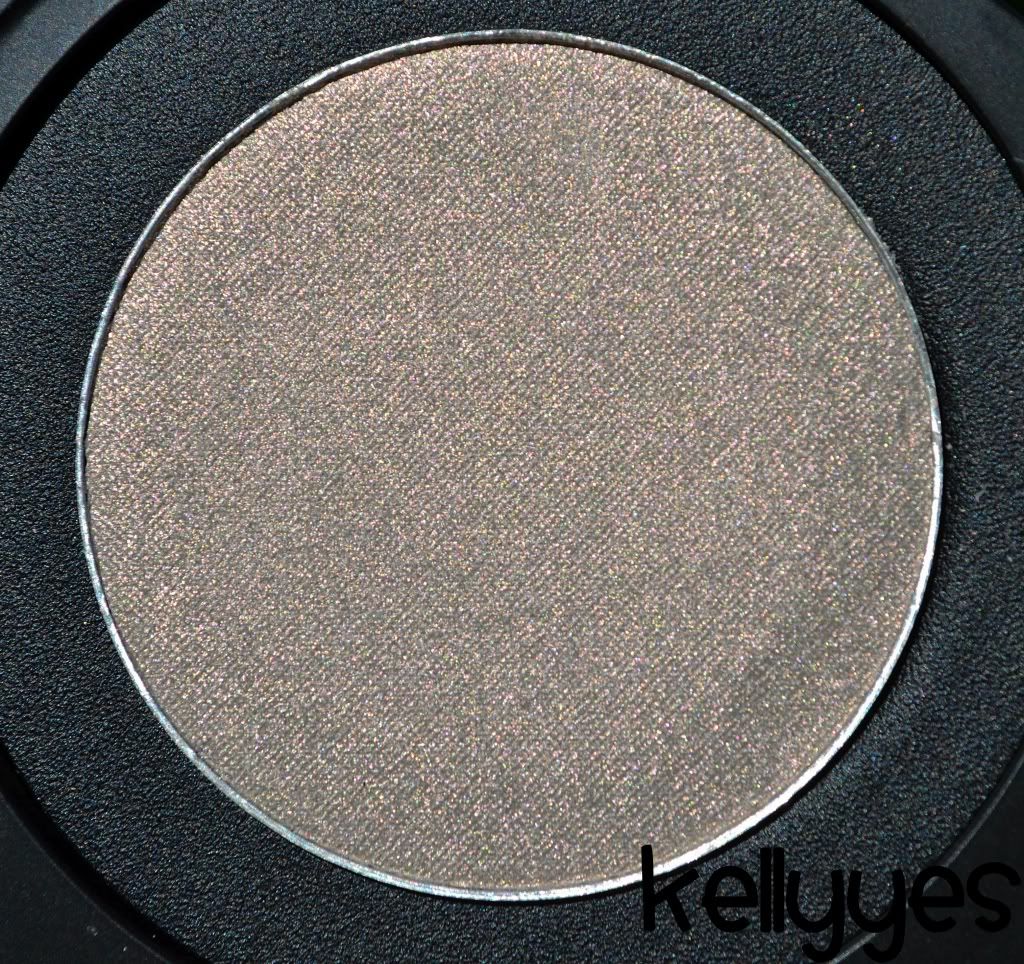 the top tier is a pearly beige with pink and green duochrome.
Spectacle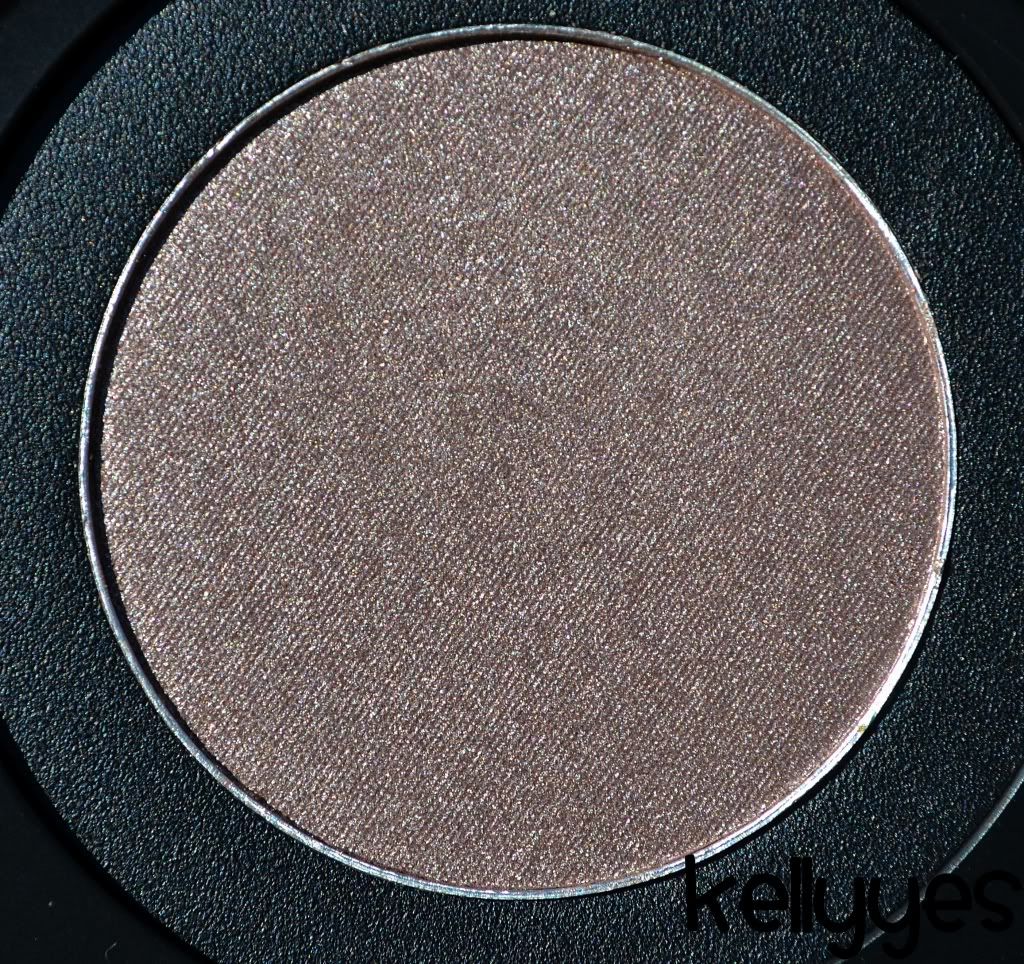 the 2nd tier is a cool silvery taupe with a silver shimmer.
Enrichissant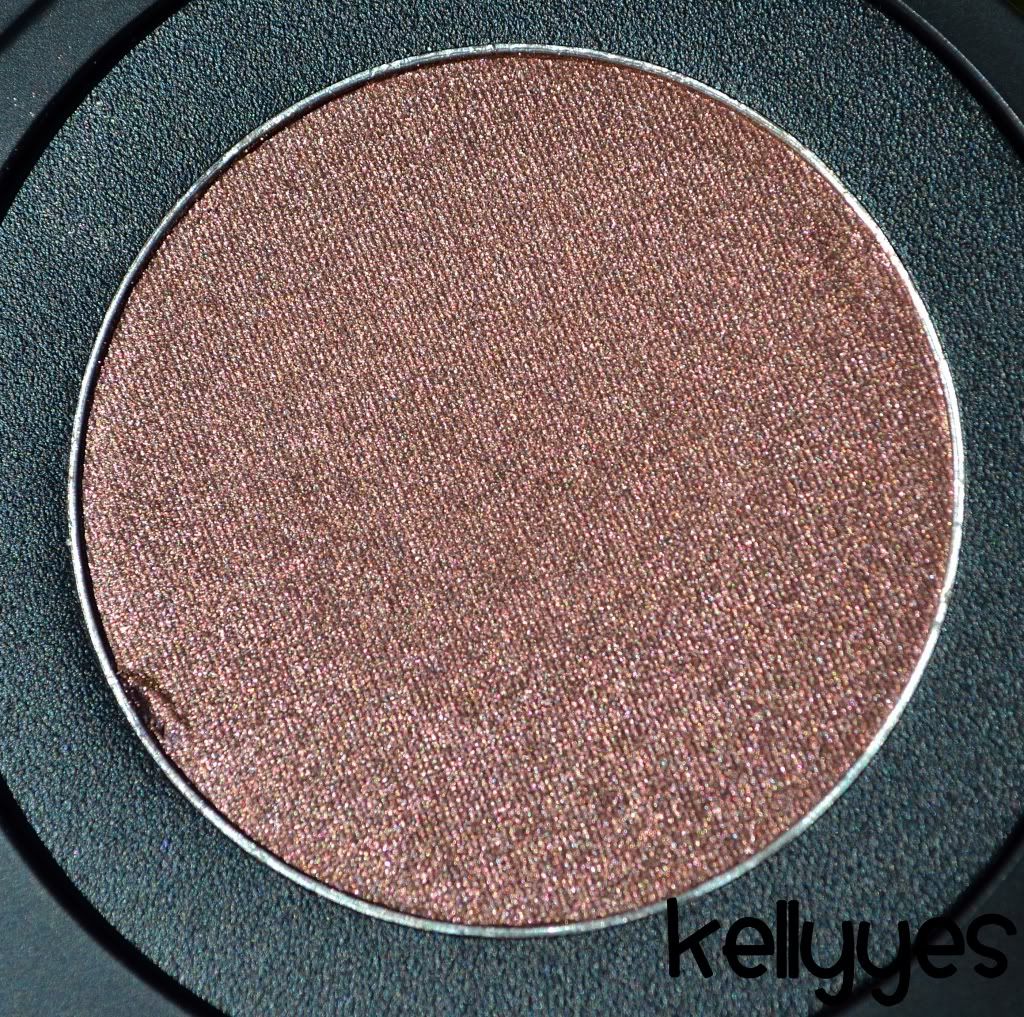 the 3rd tier is a plummy mahogany with red shimmer.
Dynamique
the 4th and last tier is a beautiful indigo.
swatches:
from left to right: 1st tier, 2nd tier, 3rd tier, 4th tier
comparison of le metier de beaute le cirque kaleidoscope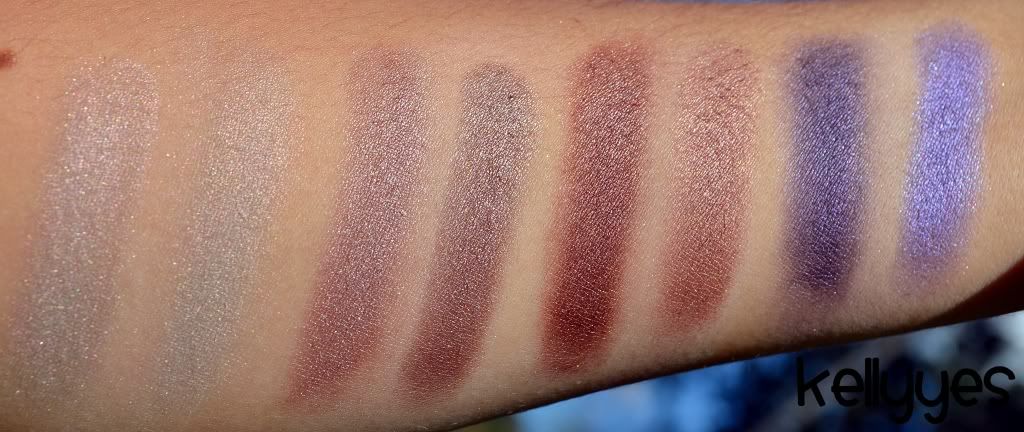 from L to R: mac vex, LMdB 1st tier, LmdB 2nd tier, mac satin taupe, LMdB 3rd tier, mac sable, LmdB 4th tier, urban decay ransom
vex and the 1st tier are similar. flamboyantes has this softness to it and is more grey though. vex is much frostier.
satin taupe and the 2nd tier are also similar but not the same at all. satin taupe is more brown while spectacle is more silver and plummy.
the 3rd tier i compared with mac's plummy brown sable. enrichissant is a MUCH deeper brown and it is redder.
lastly, the closest thing i could compare to the 4th tier was urban decay's ransom. dynamique is a MUCH darker and smokier purple. ransom is also much frostier.
the kaleidoscopes are intended to be used with the "Couches de Coleur" technique, where basically you layer the colors on top of one another to bring out the depths of the colors. here i did a few examples of this technique just to give you an idea of how versatile (and cool!) the colors work together.
layering the first tier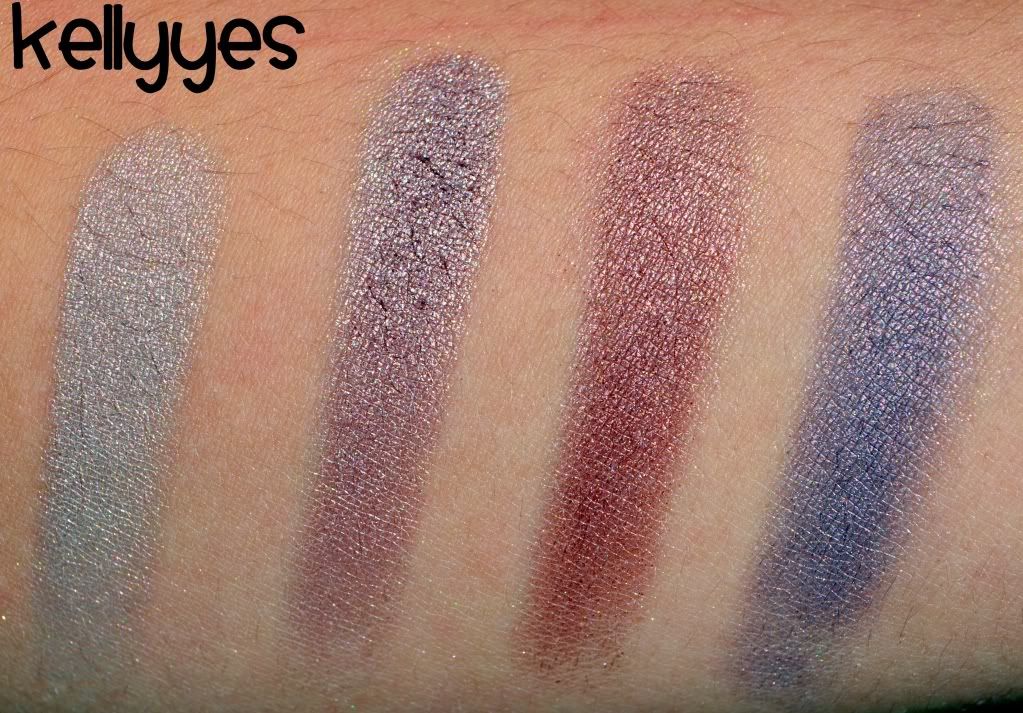 from L to R: 1st tier on its own, 1st tier + 2nd tier, 1st tier +3rd tier, 1st tier + 4th tier.
layering the 2nd tier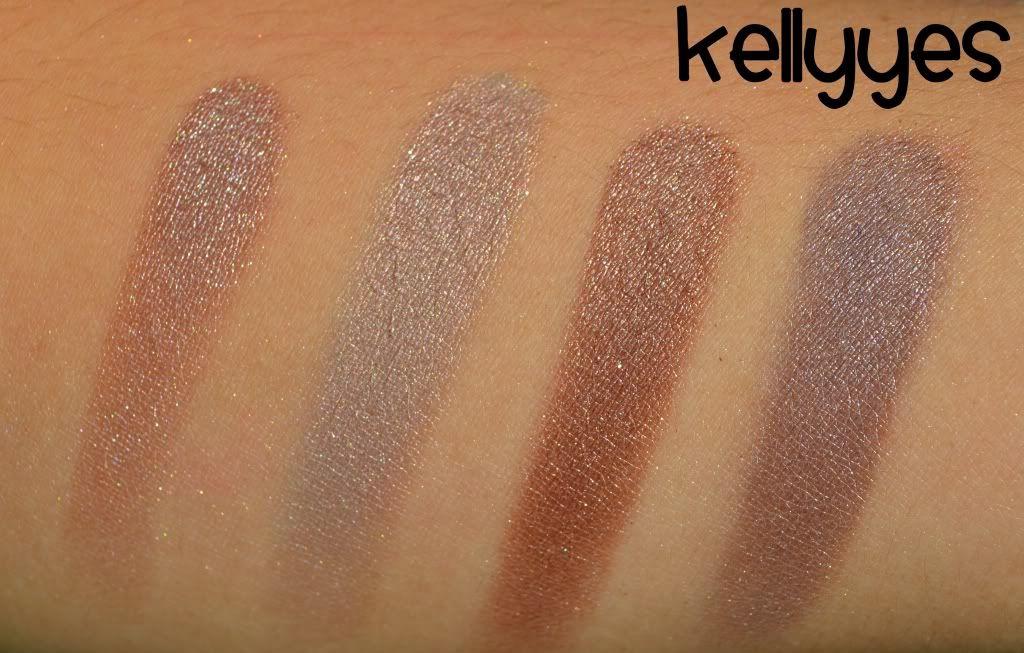 2nd tier on its own, 2nd tier + 1st tier, 2nd tier + 3rd tier, 2nd tier + 4th tier.
i havent had a chance to play with this too much since i got it but i will try to do a look with it so you can see how it looks on. and ill also try to layer the colors more! i just really wanted to show you guys swatches.
each kaleidoscope is $95. before you get appalled by the price, keep in mind mac shadows are $15 for 1.5 grams each and LMdB shadow singles are $30 for 3.8 grams. each shadow pan in the kaleidoscope is the same size as a full sized single. you can also switch out the pans in the kaleidoscope if you wanted, either for more e/s or for a lip product pan. AND LMdB is a luxury brand, the quality of these shadows is excellent. they have this nice softness to them.
if you want a review on this kaleidoscope, check out the
non-blonde
,
cafe makeup
, or
the beauty look book
. they did a better job reviewing it than i ever could attempt! plus they do more comparisons and layering...check them out!
this le metier de beaute fever i have isnt going away. i am already planning on getting the "splendid frost" kaleidoscope eventually...when i save up enough money.
what do you think of le metier de beaute? have you tried anything from the brand?