Wednesday, April 27, 2011
Thursday, April 14, 2011
this past weekend i had the time to make a little trip to sephora where i picked up a couple things i have been eying. i also got a couple early birthday gifts from my friend
Hieu
, who i have mentioned before on my blog. he got me the new estee lauder sea star bronzing blush as well as my first mac dazzleglass. thanks hieu! :)
estee lauder sea star bronzing blush
i took this picture after i had used it (which btw was really hard to do because the imprint is so pretty!) so part of the purple/pink overlay is gone. of course like most overlays, they dont last after the first couple swirls. it is more for looks, not for color payoff.
the product has a light tan bronzer background with a pinky coral star fish embedded in it. the colors can be worn alone or swirled together, depending on what look you desire.
swatches (from left to right) swirled together, bronzer, blush
this is a very subtle product overall. the coral star fish has great pigmentation. the bronzer is very light and not overly shimmery. when swirled together you get a subtle bronzed peach.
mac dazzleglass in 'like venus'
like venus is bright pink glitter gloss. it is SO pretty. its actually very dramatic to me, since i tend to get nude glosses with a creamy finish. but i can wait to try this out! its even more sparkly in person.
bare escentuals e/s in nude beach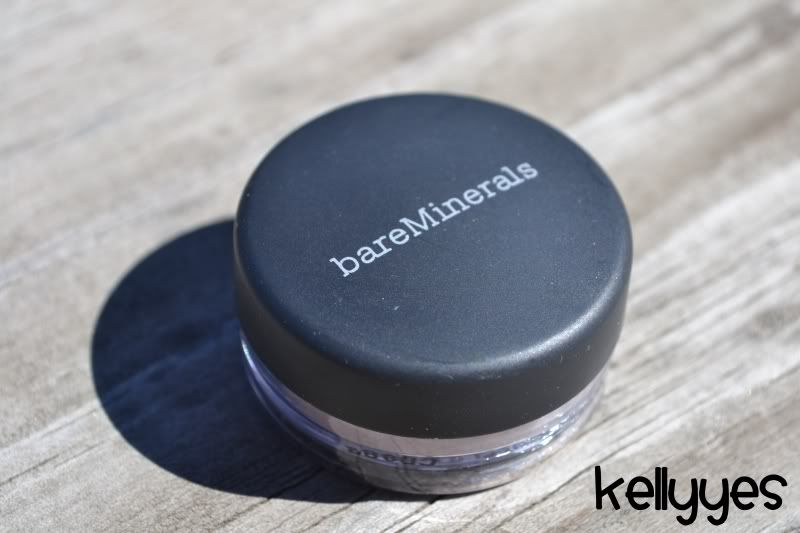 i have been dying to get this shadow after seeing swatches of it on
sandra's
blog. i swatched it and fell in love.
tarte amazonian clay blush in tipsy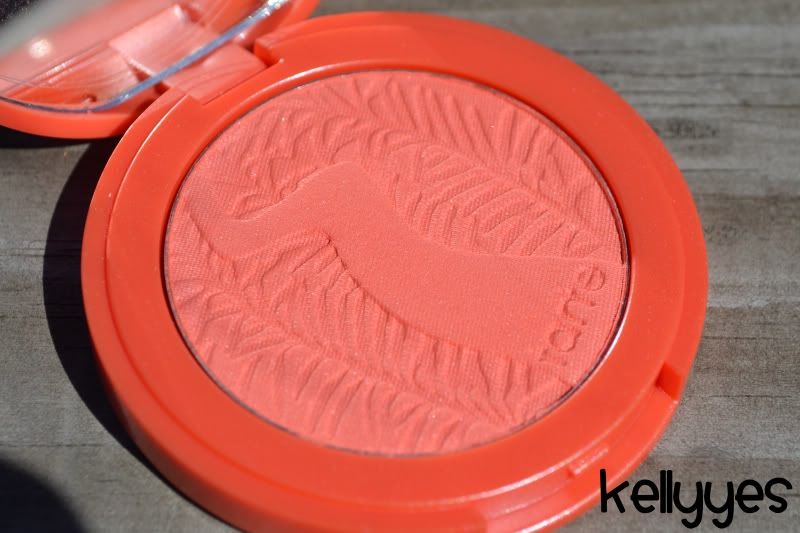 after hearing all about these new blushes from tarte, i knew i HAD to check these out. i ended up getting tipsy because most of the other colors that caught my eye looked similar to other blushes in my collection, plus the color is gorg!
swatches (from left ot right) mac like venus, BE nude beach, tarte tipsy
this swatch of like venus doesnt do it justice. in person it is much more sparkly and pink. nude beach is a cool taupe with silver shimmers. if you get the chance, SWATCH THIS. it is so beautiful and shimmery in person. tipsy is a very orange based coral, but not so orange that it loses its coral tone.
i havent had the chance to try out tipsy or like venus yet, but i have been using nude beach everyday since i got it and i have been loving it (esp in the inner corners of the eyes).
once i give these a go for a while, i will do more in depth posts of me wearing the products and my true thoughts on them.
have you guys tried any of these products?
Posted by

kellyyes
at 3:54 PM
13 comments:


Tuesday, April 12, 2011
i am blaming
Danielle
for this recent purchase of mine...all because i saw her wonderful swatches and rave over these new milani baked blushes, i knew they had to be mine. i purposely sought after these this past weekend, and luckily i was able to find a handful. There are a total of 9 shades, I picked up the only 3 i could find: luminoso, rose d'oro, and dolce pink. I really wanted corallina, but i couldnt find it :( i will have to hunt for it at another store (pathetic). on to the swatches!
luminoso

luminoso is a beautiful light peach. out of the three i got, this is the least sparkly.
dolce pink
dolce pink is a light yellow based pink. this is the least pigmented out of the three i got, but still pretty.
rose d'oro

rose d'oro is my favorite out the three. it is a coral with gold veining. this one is so beautiful, i stare at it every time i use it. it has just the right balance of orange and pink tones to it.
swatches (from left to right) luminoso, dolce pink, rose d'oro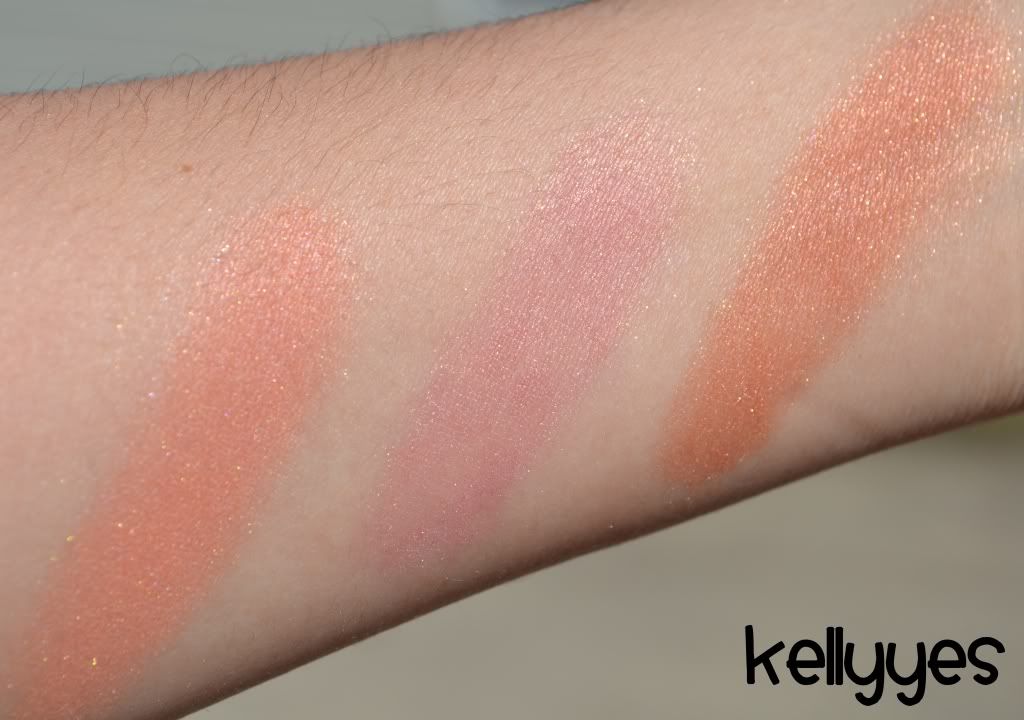 i have worn all three shades so far since i've purchased them and i am very satisfied with their performance. they are pigmented and last all day on me...i wore luminoso from 7am-10pm and i still had color on my cheeks. very impressive for a drugstore blush since the ones i do own only last 4 hours tops on me.
a few things to keep in mind...if you arent a fan of sparkly, i would steer clear from these. they dont make you look like a disco ball, but they certainly arent matte. and due to it being a mineralized type formula, product does tend to fly everywhere when you swirl, so i would suggest to not swirl so vigorously. also, it's more of a personal preference thing, but i cant stand the packaging. its very cheaply made and bulky. i prefer a more sleek packaging for easy storage and travel.
i have tried a few things from milani and i have nothing bad to say so far with their products. they do a very good job with their formulas and they are such a steal. these cost me about $7.50. milani is a hard brand to find in stores, but you can find it in select walgreens, rite aids, and i have had the best luck at cvs. you can also buy milani online at cherryculture.com.
have you tried these out? if you havent you should definitely check them out! i think they are so good for the price...
Posted by

kellyyes
at 4:04 PM
9 comments: