i am blaming
Danielle
for this recent purchase of mine...all because i saw her wonderful swatches and rave over these new milani baked blushes, i knew they had to be mine. i purposely sought after these this past weekend, and luckily i was able to find a handful. There are a total of 9 shades, I picked up the only 3 i could find: luminoso, rose d'oro, and dolce pink. I really wanted corallina, but i couldnt find it :( i will have to hunt for it at another store (pathetic). on to the swatches!
luminoso

luminoso is a beautiful light peach. out of the three i got, this is the least sparkly.
dolce pink
dolce pink is a light yellow based pink. this is the least pigmented out of the three i got, but still pretty.
rose d'oro

rose d'oro is my favorite out the three. it is a coral with gold veining. this one is so beautiful, i stare at it every time i use it. it has just the right balance of orange and pink tones to it.
swatches (from left to right) luminoso, dolce pink, rose d'oro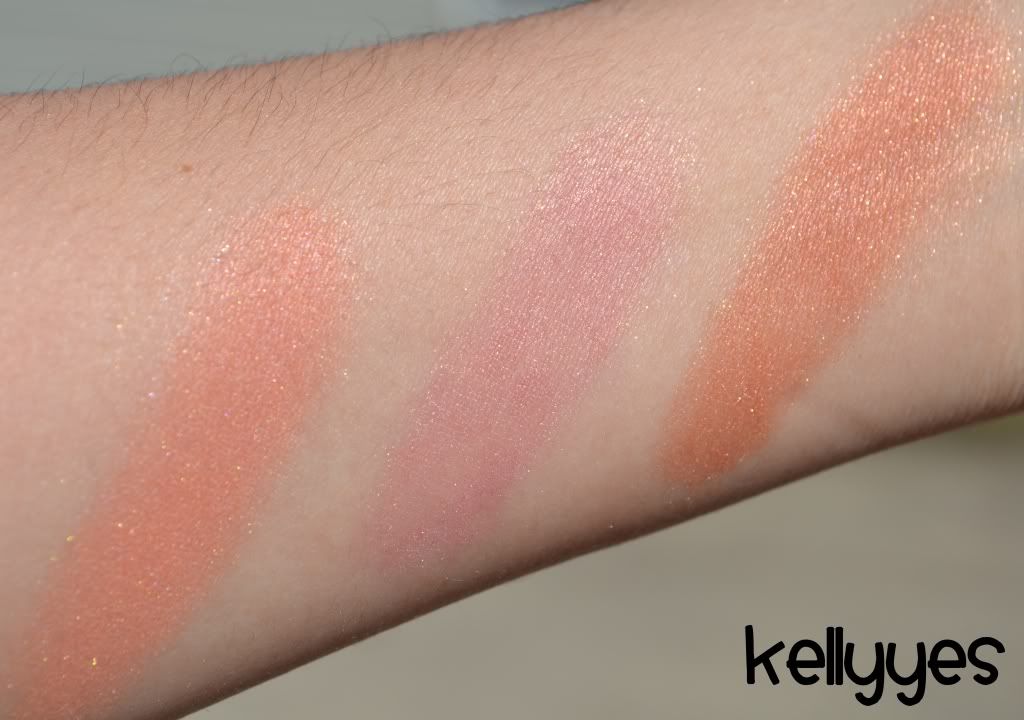 i have worn all three shades so far since i've purchased them and i am very satisfied with their performance. they are pigmented and last all day on me...i wore luminoso from 7am-10pm and i still had color on my cheeks. very impressive for a drugstore blush since the ones i do own only last 4 hours tops on me.
a few things to keep in mind...if you arent a fan of sparkly, i would steer clear from these. they dont make you look like a disco ball, but they certainly arent matte. and due to it being a mineralized type formula, product does tend to fly everywhere when you swirl, so i would suggest to not swirl so vigorously. also, it's more of a personal preference thing, but i cant stand the packaging. its very cheaply made and bulky. i prefer a more sleek packaging for easy storage and travel.
i have tried a few things from milani and i have nothing bad to say so far with their products. they do a very good job with their formulas and they are such a steal. these cost me about $7.50. milani is a hard brand to find in stores, but you can find it in select walgreens, rite aids, and i have had the best luck at cvs. you can also buy milani online at cherryculture.com.
have you tried these out? if you havent you should definitely check them out! i think they are so good for the price...