kevyn aucoin is a brand i have always wanted to explore. the first product i heard about and wanted to try was the creamy moist glow cream blushes. then i heard about the magic of the celestial powder in candlelight. both products are still on my mind but i have not picked them up since i already have enough highlighters for a lifetime and we all know i do not need to add anymore blush to my collection. i then heard quiet murmurings of kevyn's sensual skin enhancer. with only a few reviews out there (most being positive) and it being such a unique product i was intrigued. my interest plus cyber monday deals = me finally being able to try out one of kevyn's products.
THE PRODUCT

the sensual skin enhancer can be used as a foundation, concealer, and highlighter. it retails for $45 USD. bergdorf goodman's website gives great details on the different ways it can be used: link! i personally have only used this as a foundation. this is a VERY concentrated thick cream. seriously. don't let looks deceive you. you might think $45 is a lot for a dinky little pot (think the size of the blue blistex lip medex pot) but it is so concentrated that you need the tiniest smear so it will last a LONG time. you have complete control over how much coverage you want/need. figuring out how much product i needed for the coverage i liked took me THREE tries. third time really is the charm (where did this saying originate?)
HOW I USE IT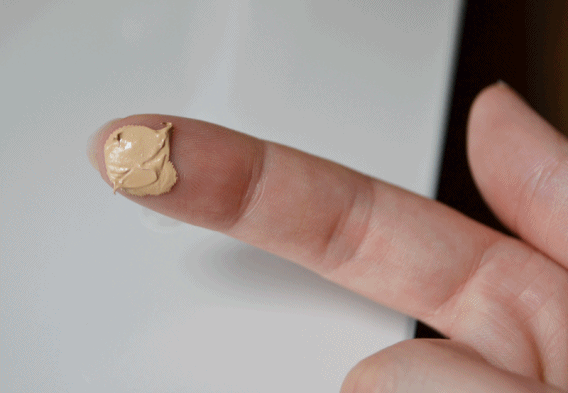 i read different ways on how people used this. some used it with a damp beauty blender, others used it as a base to cover scars/blemishes, and others used it mixed with their moisturizer. i chose the latter way as i do not own a beauty blender and using it as a base seemed too heavy for me. as you can see from my (fancy?) animation, i just mix the tiniest amount, enough to smear across the tip of my pointer finger, with a blob of my moisturizer (cerave) until it is an even consistency. then i just apply with my sephora platinum 55 brush.
KEVYN AUCOIN SENSUAL SKIN ENHANCER ALONE

i ordered my shade blindly (Sx06) and it is a little dark for me since i am at my palest right now but since i mix it with moisturizer it isn't noticeable. as i said before, coverage is completely in your control. i prefer a lighter coverage as i like the "my skin but evened out" look. i don't go for the completely full and flawless finish as i think it looks unnatural. all preference! with the ratio i mix together i get a really nice and natural skin finish. the first time i used this i used WAY too much product and it looked very cakey and jarring to me.
FULL FACE


with concealer, powder, bronzer, blush, and highlight. FOTD post coming soon :)
i feel as though i can't judge the lasting power as i mix it with moisturizer and i think that dilutes the true lasting power. as for oil control, in normal situations i have to blot halfway through my day; this product is no exception. i have a feeling this will slip off faster during warmer months.
the one thing i will mention that annoys me a bit with this product is the scent. it smells like...makeup? if that makes sense. it disappears once applied so it isn't a huge deal but if you are sensitive to smells you may want to take whiff yourself before buying.
also, the first and main ingredient is mineral oil. i will admit i did hesitate in buying this when i saw that but curiosity got the better of me. here is the full ingredients list if that is a priority to you:
Mineral Oil (Paraffinum Liquidum), Polybutene, Diethylhexyl Succinate, Polyethylene, Quaternium 18 Hectorite, Calcium Carbonate, Dextrin Palmitate, Honey, Simmondsia Chinensis (Jojoba) Seed Oil (Jojoba), Tocopheryl Acetate (Vitamin E), Beeswax (Apis Mellifera), Butylene Glycol, Cholesterol, Lecithin, Talc, Triethylhexanoin, Methylparaben, Fragrance (Parfum) (parfum), May Contain (+/-): Iron Oxides (CI 77491, 77492, 77499), Mica, Titanium Dioxide (CI 77891)
OVERALL:
i would recommend this if:
+ you like having control over your coverage
+ you like multipurpose products
+ you are curious about kevyn aucoin and want to try something unique
+ you like a natural looking foundation and don't mind making your own mixture
i would NOT recommend this if:
+ you don't want to put extra work into making your own coverage
+ you are sensitive to scents
+ you do not like products with mineral oil/parabens
i really like this and would recommend it if you don't mind putting a little effort into your routine. i like how it is a multipurpose product and i love the natural skin like finish. i would consider buying a much lighter shade to use as an under eye concealer/brightener as the coverage would be phenomenal. i think it would suit all skin types and the shade range is pretty nice.
what do you think? is this a product that would be too much work for you or are you curious to test out the different possibilities? i will post up a separate post on what i am wearing on my finished face. i didn't want to make such a picture heavy post. happy saturday!