It feels like I haven't posted a FOTD for quite some time. My latest posts have been mostly focusing on products themselves sans my face. Have you missed seeing my mug? I truly doubt it but it looks like I am giving you no choice as I wanted to share a look that I have been wearing consistently for the past couple weeks. I am noticing I have started falling into routines with using certain products. By all means, I am not complaining! I actually like this new found "routine" feeling. It makes me feel like I am actually putting a dent in the amount of makeup I own. Anyway, enough of my ramble. Here is the breakdown of my lazy and fast look:
Theme of this look is smudgey, subtle shimmer, and most importantly EASY. I just have not been in the mood for perfectly polished eyes. You know how everyone has (or strives to have) their signature makeup look? Mine is definitely smudgy, messy eyes done right with lots of kohl liner and layers of mascara. Not for everyone, I am sure of it, but there is something about the "worn in" look I find very appealing. The fact that the look is easy and fast to accomplish just adds bonus points in my book.
HI EYE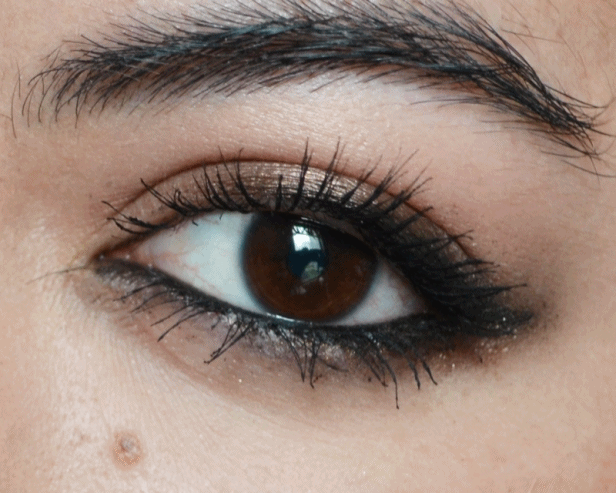 First I use a thin layer of contructivist paint pot by MAC all over the lid. I then haphazardly line the outer half of my upper lid as well as my waterline with a black kohl liner. Lately I've been reaching for either the Giorgio Armani eyes to kill waterproof eyeliner or Urban Decay 24/7 liner in perversion. I soften the kohl with MAC's tempting eyeshadow, the only MAC shadow I have hit pan on. Last step is curling my lashes (finally bought the shu uemura curlers, what a difference) and adding plenty of coats of Maybelline's falsies flared mascara (I actually like this).
**NB: Paint pots have a bad rep for drying out before you are able to finish it up. As of right now my constructivist is still as fresh and perfect as when I first bought it. BUT my paint pot in the shade quite natural is starting to show signs of drying out. I'm not sure if it depends by shade? My oldest paint pot is indianwood and it has shown no signs of drying out whatsoever. And so is the mystery of the paint pot. If you have any insight/experience on the matter I'd love if you could sound off in the comments. I am curious as to if there is a pattern to the madness.
The rest of my face:
Kevyn Aucoin sensual skin enhancer (shade sx06)
Dior skin sculpt concealer
Laura Mercier secret camouflage concealer
Maybelline dream matte powder
theBalm betty loumanizer bronzer
MAC mocha blush
Estee Lauder modern mercury highlighter
Nuxe balm on lips
I think with time I will eventually revert back to my cleaner liquid liner looks but for now I don't foresee my smudgy look going anywhere anytime soon. Of course if the inner OCD in you can't stand the smudge this look could easily be done with cleaner liner and primer to make the paint pot last longer (this look slightly creases on me which I like as it adds to the "worn in" look).
I have been having quite the affair with MAC products. I think it is because I feel bad for neglecting the brand, I own quite a bit from them when I take a good look at my inventory. Look forward to a future post talking about my MAC blush palette as that is all I have been wearing lately.