yesterday i decided to pop into my local walgreens to waste some time before heading off to my next class. what a mistake because while i was browsing i noticed that my walgreens FINALLY has a full essie display up. i have seen some essie polishes scattered around before (just little collections with no colors worth getting excited over) but this was the first time i have seen more variety.
needless to say i had to REALLY restrain myself from getting nail polish crazy...i carried around 5 bottles of polish with me for a good 15 min...pathetic. i ended up walking out with two colors (because they are $8 each and i convinced myself walgreens always has sales...right..RIGHT?!) as well as a lip product i have been searching for for months now...the carmex moisture plus lip balm tint. enough with my blab, here are the pics: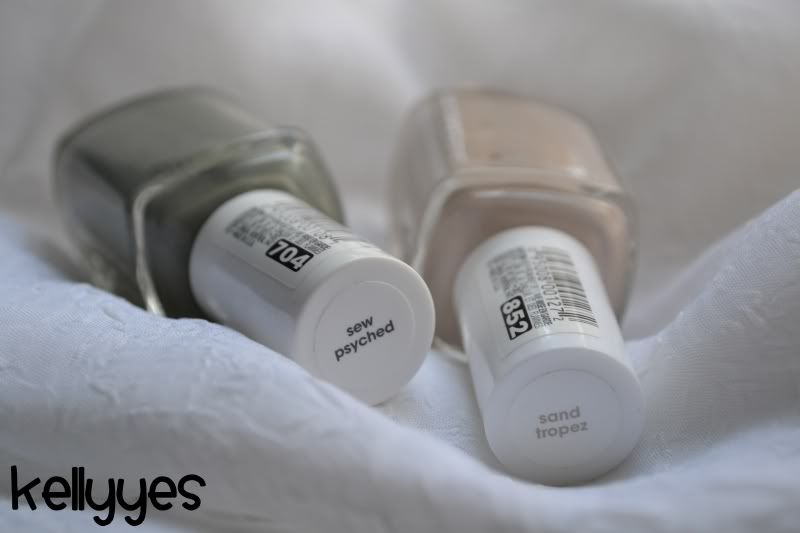 i picked two neutral shades, sew psyched and sand tropez. ive been wanting sew psyched since its first launch, and sand tropez is part of the new french affair line (that i keep convincing myself i dont need). i picked sand tropez because it seemed like the most unique color that i could add to my collection.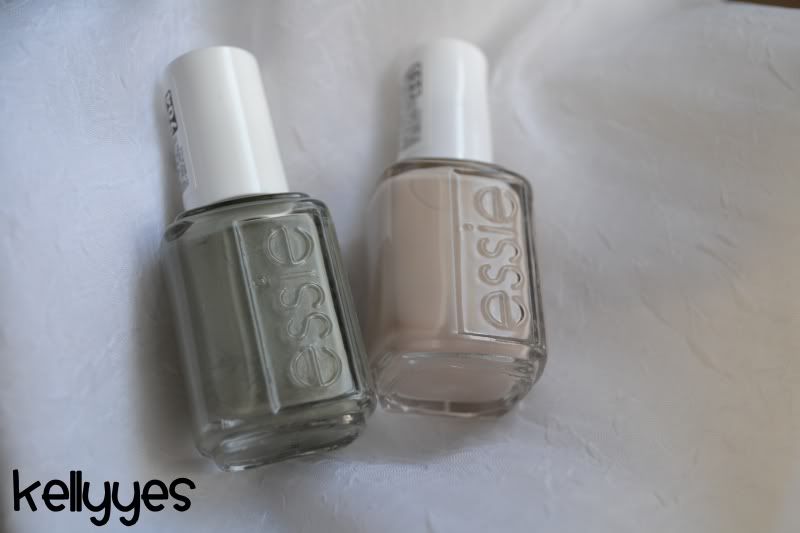 i would say sew psyched (left) is a light olive cream and sand tropez (right) is a greyed beige. i really have nothing like sew psyched in my collection. as for sand tropez; i found some shades from my collection to compare it to...
color comparison of sand tropez (second from right)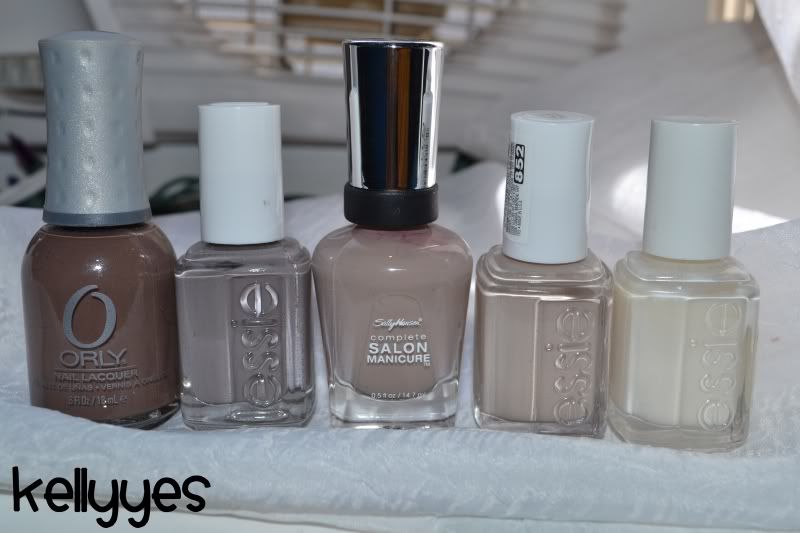 as you can see, sand tropez is NOTHING like orly prince charming (PC has too much brown to it & is too dark). it is also not as grey as chinchilly (second from left) and not as white as marshmallow (far right). the closest match is sally hansen's complete manicure in wet clay (which i havent worn yet). but they are not exact matches, wet clay is a smidgen darker and more grey (just by comparing from the bottle)
the other nail polishes i ALMOST got were nice is nice (a light lavender), french affair (pink cream), and turquoise and caicos (light cream turquoise). i have a feeling i will eventually cave and go back for them...
as for the carmex moisture tint products...i got both colored tints they come in (peach and pink). these retail for about 3 bucks but they were on sale for 2 each.
carmex moisture plus tints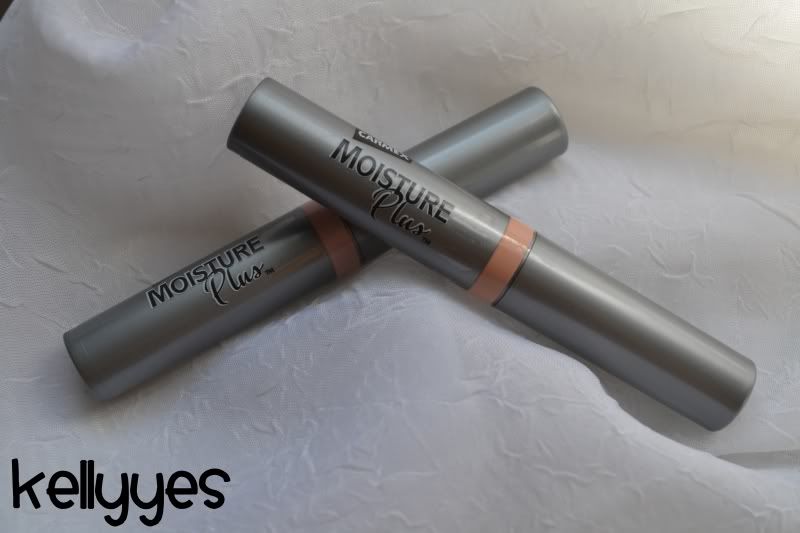 they come in a slim dull silver packaging with a band showing the color of the product inside.
my bare lips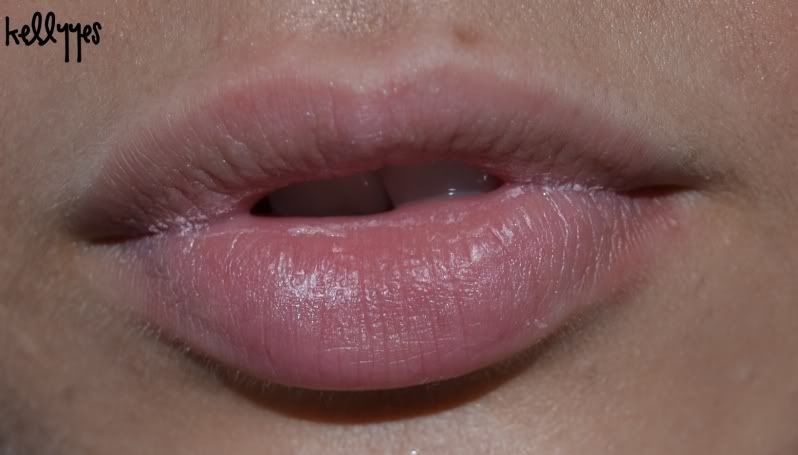 carmex moisture plus peach tint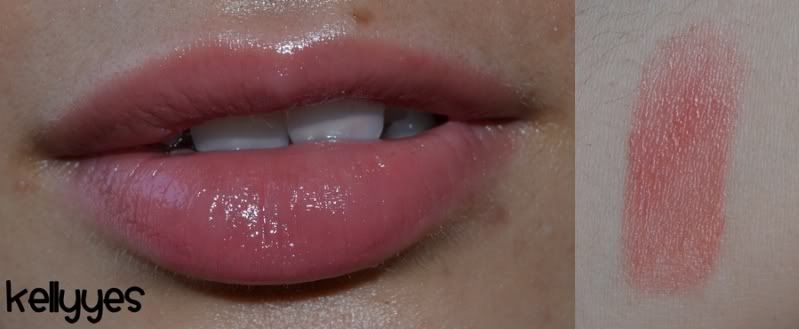 carmex moisture plus pink tint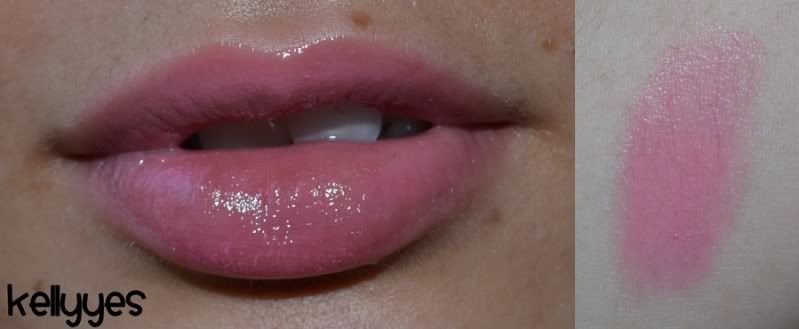 swatches for comparison (pink on left, peach on right)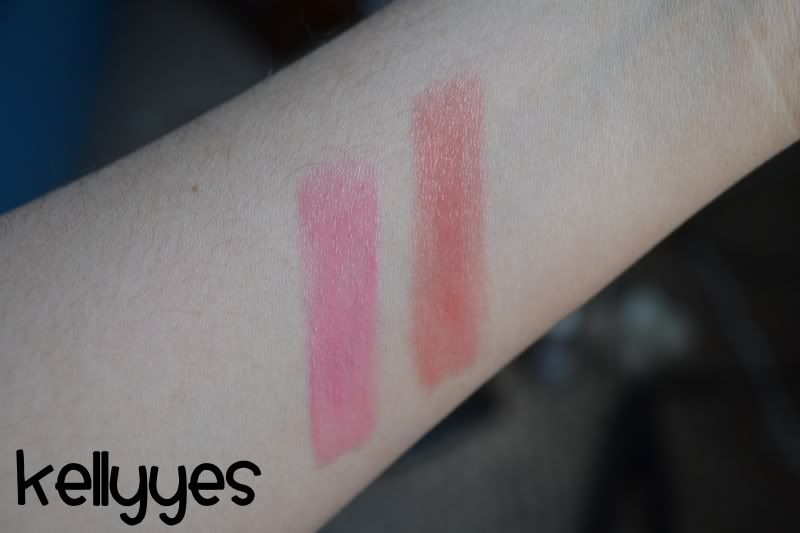 these tints seem like they are meant to be buildable. you can sheer them out, or apply more product to get the color to show. i was happy with the pigmentation, i hate when tint products give no color at all, but thankfully these color actually show up! the texture is very smooth and not sticky at all. the scent/taste IS like the original carmex line, so if you are familiar with that scent and know you dont like it, you wont like this either.
i have only been using them for a day so i cant give a complete review on their performance. but so far i have been satisfied with these. they have kept my lips soft and moisturized for the past day...no weird reactions yet.
have you guys tried out these tints yet? i had the hardest time finding them!