i thought i'd do a little ramble about some blushes i have recently acquired. i got two new nyx blushes (that i had had my eye on for a while) from my grandpa for christmas. i know, very late discussion about something i got a month ago! but i also wanted to talk about two new nars blushes i got, one i bought from a friend and one from sephora.
nyx blushes
first up we have nyx's cream blush in glow (right). this color reminds me a lot of mac's cream blush in posey (left). they are similar in color, a beautiful dewy pink. this is my first nyx cream blush, and i have to say i am impressed! the formula is thinner (so easy to blend) and the pigmentation is amazing. i literally touch my finger very lightly on the product and it's sufficient enough to get the right amount of color on my cheeks. thumbs up!
i actually prefer the texture of glow over posey. i have two of mac's permanent blushcremes, lilicent and posey, and i have to say i am not impressed with the feel of them. it isnt the easiest to blend due to it being a bit thick and sticky. however both colors are so gorg and the product dries to a nice dewy finish so i deal with it.
next i got a powder blush in expresso. the color doesnt look special...sort of a blah color. but i really adore it. it adds such warmth to my face. i would describe it as a tanned muted pink. ive been using this blush very frequently lately.
swatches:
from left to right, mac's posey, nyx glow, nyx expresso. posey and glow are very similar, but glow is brighter and more pink. posey is a slightly darker pink.
nars blushes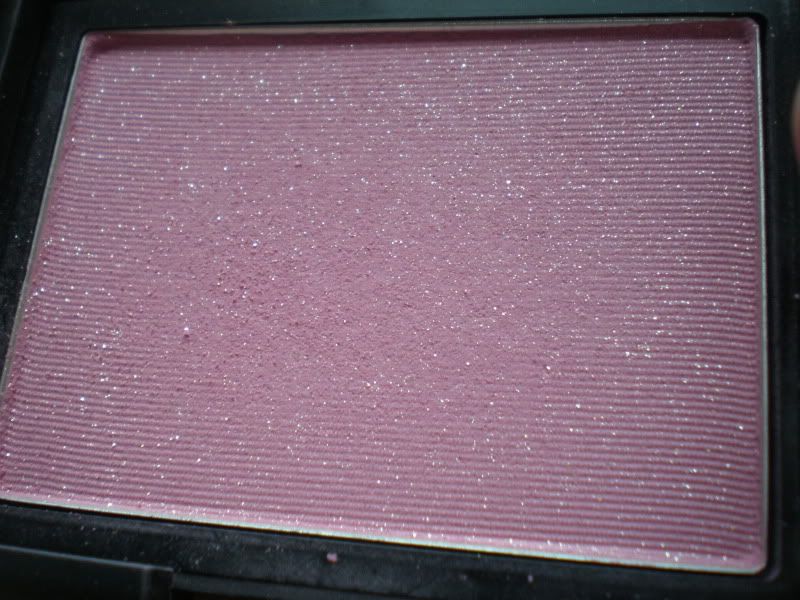 my friend, Hieu (he has a youtube channel, click
HERE
to check him out. he mostly focuses on estee lauder products), recently asked if i was interested in buying his nars blush in angelika. i of course said yes because i am collecting nars blushes and i didnt have that color yet!
nars blushes in angelika (left) and desire (right)
when i look at angelika, i am reminded a bit of my beloved nars desire, minus the silver sparkles. when looked at in the pan side by side though, desire is a much brighter and hotter pink.
nars blush in albatross
im sure everyone has seen and heard of this highlighter. i have to say, that i looked at this product a million times every time i went to sephora and i just wasnt impressed. i didnt get why everyone loved using it as a highlighter. i mean look at it, it looks so white and powdery. if you have had those same thoughts about this product, please let me sway your opinion!
i have been absolutely obsessed with this ever since i gave it a chance and bought it. in the pan it looks so unremarkable. on the skin, it is amazing! especially if you pair it over a cream highlighter. i have been wearing this over mac's ccb in hush everyday. i love the effect, it is glowy and perfect and not over the top. it isnt powdery or unflattering, it gives the most beautiful golden sheen when blended. i can not wait to use this on tan skin because it will be the bomb for sure. i cant rave about it enough, im glad i gave it a chance!
swatches of nars products
from left to right: desire, angelika, albatross, albatross over hush. feel free to sit back and admire the albatross + hush combo. if you have these two products, please try them out together. please? if you need more convincing:
here i am wearing the pair together. i applied the products in the normal highlight areas (cheekbones, top of eyebrow arch, bridge of nose, cupids bow). subtle glow...check.
as you could tell from the swatches, desire and angelika are very similar pinks. angelika just has the silver sparkles. i was a bit worried about the silver sparkles, but it is strange, when i wear this blush, the sparkles arent noticeable at all. very strange since every time i swatch the color, the sparkles are definitely evident!
well thats about all for my long blush ramble. i hope you all are doing well!
as a side note...i dont know if you guys have noticed, but on the mac website the blushcremes have been removed due to the new cremeblend blushes coming out in march. the bad news is lilicent is discontinued it seems, but posey will be back in a different (and hopefully better) formula! does anyone know if the stores are still carrying the blushcremes? i havent checked to be honest...if you see lilicent though, i would snap it up since it will be gone!