have you guys been impressed with any of the new collections mac has been coming out with? i actually have been really interested in the recent ones that have come out (cham-pale, stylishly yours, mickey contractor, and peacocky) but im trying to stay away from getting sucked into the "gotta buy it because it's limited edition" craze and i think i've been doing pretty well.
i did, however, pick up a couple things from the cham-pale collection; a paint pot (because they all looked so darn shimmery and lovely) and the feline kohl power liner (because ive never tried it and i will always be on the hunt for the blackest eyeliner)
vintage selection paint pot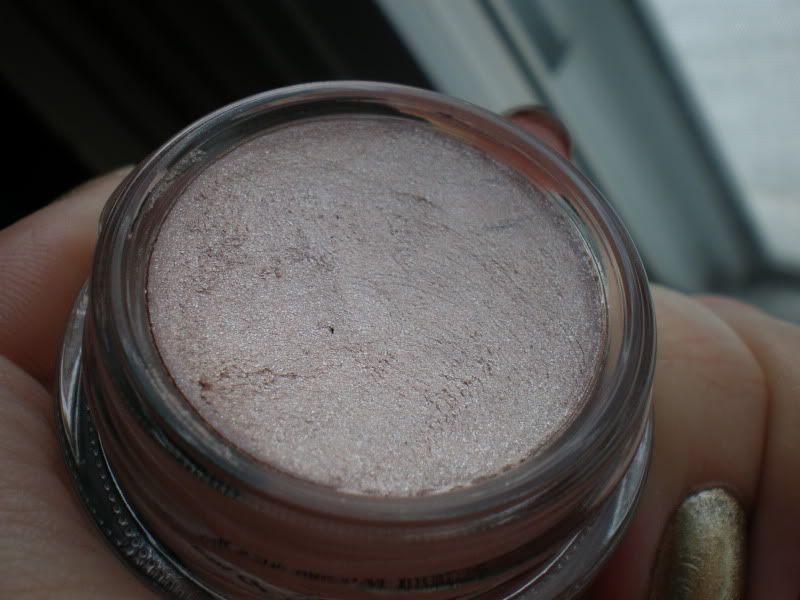 vintage selection is a dirty shimmery nude color. i have used it so far only as an eyeshadow, but i think this would be a very pretty highlighter as well. it is gorgeous, but if you cant stand shimmers, you wont like this paint pot. the staying power is like that of regular paint pots.
comparison to mac's cream color base in shell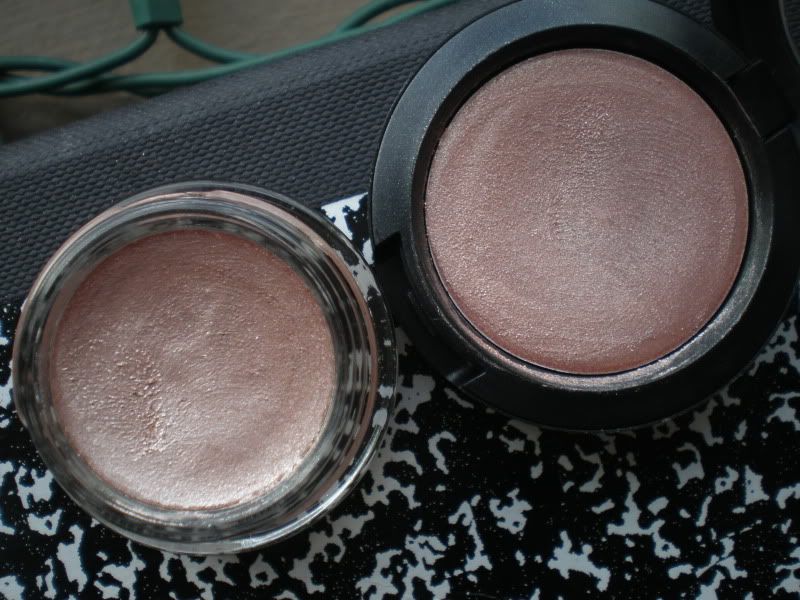 when i first saw vintage selection, i thought of my ccb in shell that i always use as a highlighter. in the pans they look similar but when swatched it's a different story.
(from left to right) ccb in hush, ccb in shell, pp in vintage selection.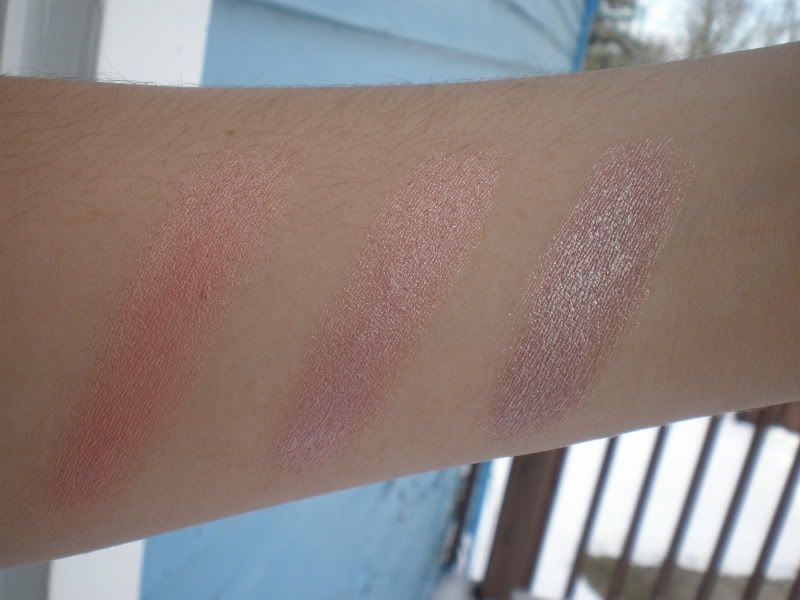 i included the ccb in hush for better color comparison. hush is no where near a match to vintage selection due to the finish being different (hush is a sheen, VS is a shimmer) and the color (hush being a peach, VS being a dirty nude). shell is a closer match, but still isnt a dupe. shell is more pink than the beige VS. both have similar shimmery finishes.
kohl power liner in feline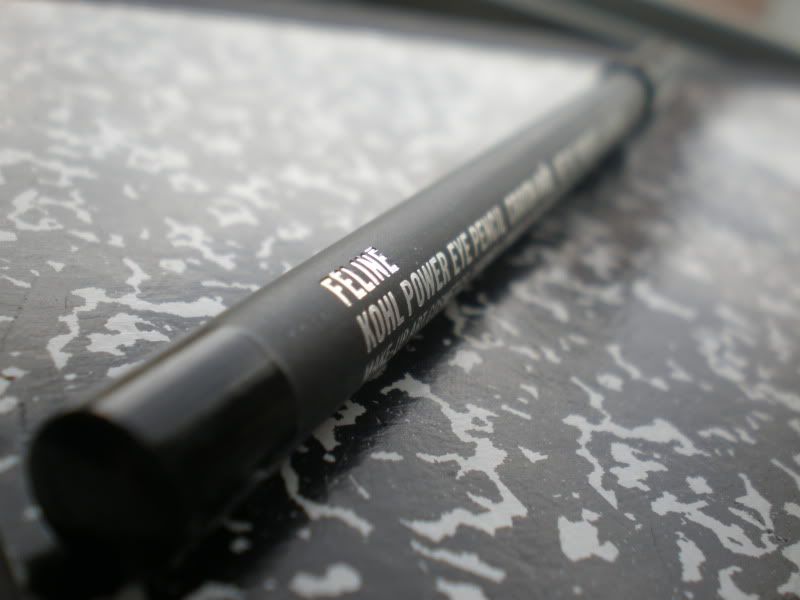 i have been really eager to try this liner out. this is a very hyped product, no? i've been using this ever since i received it to see how it wears. as for if it is one of the blackest out there...
feline (left) compared to mac smoulder (middle) and stila kajal liner in onyx (right)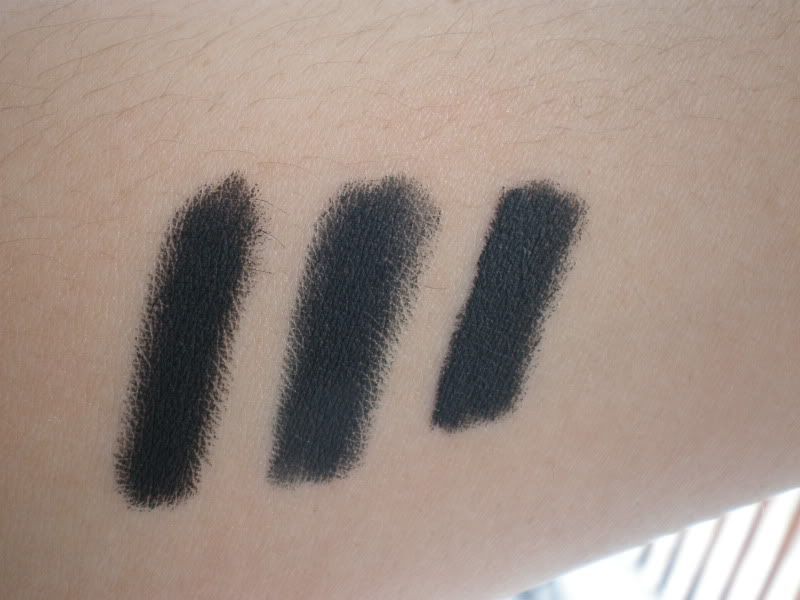 feline is definitely black...but the blackest? i think stila still wins it although you have to have a pretty keen eye to tell. feline is definitely blacker than smoulder since smoulder seems a little blueish when compared.
all three are pretty black so if you have smoulder, you arent really missing out on anything(unless you are a freak like me that needs to have the blackest black to make you happy haha). stila is definitely the creamiest (lasting power isnt the best on the market, but hey it's smooth and so black!) while feline is a bit smoother than smoulder. feline and smoulder have the same staying power for me. i use all three of these for the same purpose: my waterline. i dont normally use it as a regular liner.
did you pick up anything from the latest collections? i was going to get a couple blue and purple mega shadows from the peacocky collection, but i figured i would never use it all so i didnt bother :)