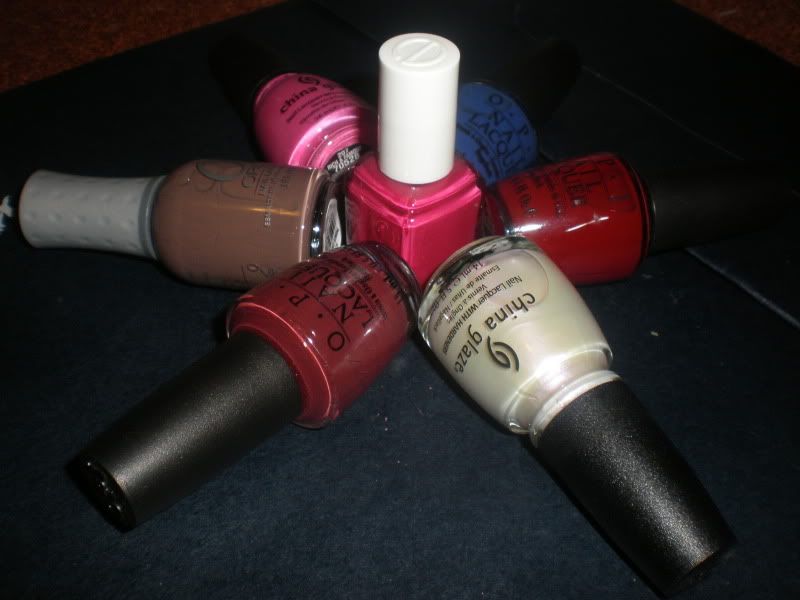 i recently went to chicago where i got to visit Viet Town. if you didnt know, vietnamese people have the stereotype of always having a nail shop or having the career of doing nails. with that being said, i found it so strange that i couldnt find ANY place that would actually give manicures haa.
there were however retail beauty shops that sold opi, china glaze, orly, essie...etc for a fraction of the normal cost! usually opi is around 8 bucks, 6 if you are lucky, and where i bought them they were only $3.25! i was pretty happy. essie i believe was around $3 and china glaze was only like $2. needless to say i went a bit polish happy. here are my finds:

from left to right: dating a royal, prince charming, rainbow, rich & famous, raspberry, can you tapas this, quarter of a cent-cherry
OPI's dating a royal is as shown, a royal creamy blue. i couldnt stop looking at the color, its very eye catching.
Orly's prince charming looks dull but i saw my friend wear it on her nails eariler in the year and i loved the effect. the color is a beigey brown grey creme. i love neutrals at times so this fits.
China Glaze's rainbow was inspired actually by keri hilson. i prefer, over all, creme colors or solid colors that dont shimmer when it comes to polish but china glaze's rainbow is actually a soft pearly iridescent white color. the iridescence comes off as a rainbow just like the inside of a clam shell. i actually want to see if this will look like
keri hilson's nails at this years grammys
.
China Glaze's rich and famous is a girly hot pink color. its not neon pink, just a hot pink. i usually dont ever wear pink but i recently bought OPI's pink flamenco and i love it! so i decided to buy another pink shade because it looks awesome on toes :)
Essie's raspberry is exactly that color...raspberry. it is a creme, no shimmers.
OPI can you tapas this is a earthy browned red.
OPI quarter of a cent-cherry is my favorite red polish!! it is a vampy dark red where the color in the bottle is what you see on your nails. i love this color!
i actually havent worn any of them except quarter of a cent-cherry and can you tapas this, which i have to say i dont really care for. it is a bit too dark for my taste and the color doesnt translate as the earthy red color like the bottle shows.
any of you going crazy for nail polish lately?