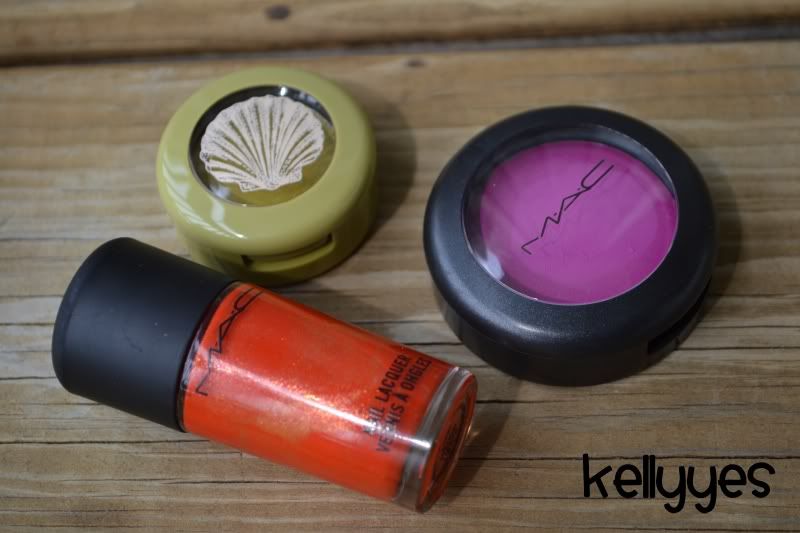 hello everyone! i am sorry i have been MIA for the past two weeks. i had a little vacation in california and while i was there i got to eat lots of great food and finally had the opportunity to visit a cco. the one i went to was in an outlet mall in san diego. it was a small little shop that offered mac, estee lauder, bobbi brown and lots of fragrances. i have heard ccos are usually hit or miss, and lucky for me it was a hit. i was able to snag a couple mac products i have been eying for a while as well as an on the whim buy.
cream color base in madly magenta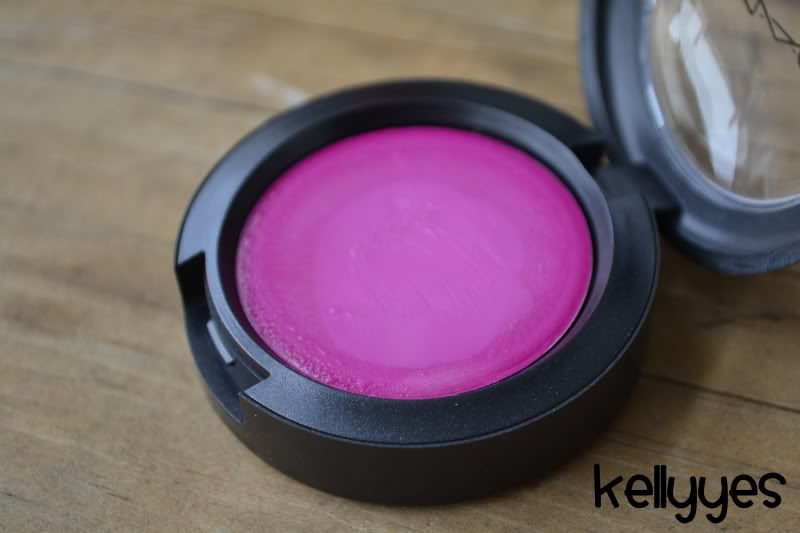 this is something i have been wanting ever since i watched
nur's video
on her purple blush crush and she mentioned the product. the color is so gorgeous. i would describe it as a bright pink based purple with no shimmers or glitter. it may seem so bright and outrageous in the pan, but really if you wore it right it is extremely flattering. this can also be worn on the lips, which i havent tried out yet.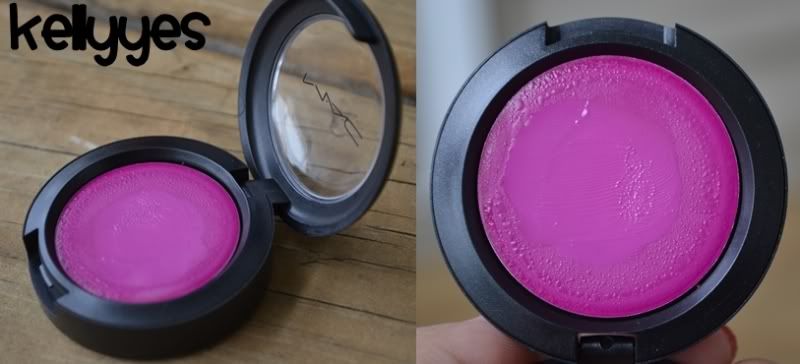 it's extremely pigmented and can be worn really heavily if you wanted to be dramatic or worn really sheered out for a beautiful touch of color. i wore this a lot while i was in cali after i got it. this isnt available online atm, but you can sometimes find them at your mac counter and they repromote this shade frequently.
after getting this ccb, it makes me want to get virgin isle ccb. next time i see it i will definitely purchase it.
mac e/s in sweet & punchy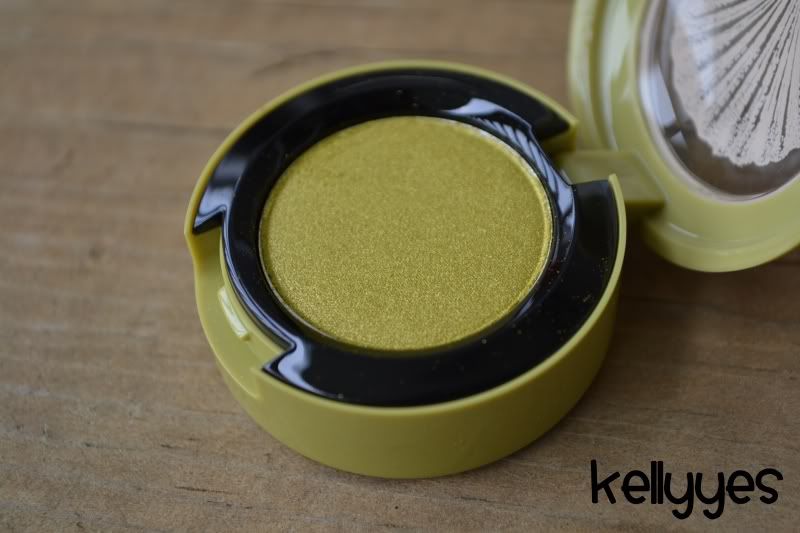 this e/s came out with the to the beach collection last summer. the only thing i picked up from the collection was hipness blush but i really regretted not picking up this unique shade. i started scouring blog sales and ebay for this e/s but i put it off hoping it would be repromoted. luckily for me this was at this cco! and for cheaper than retail too, i got it for about $10.
sweet & punchy is a very very yellow based chartreuse. i imagine myself pairing this with grey shadows to make it more wearable. i cant wait to play with the color.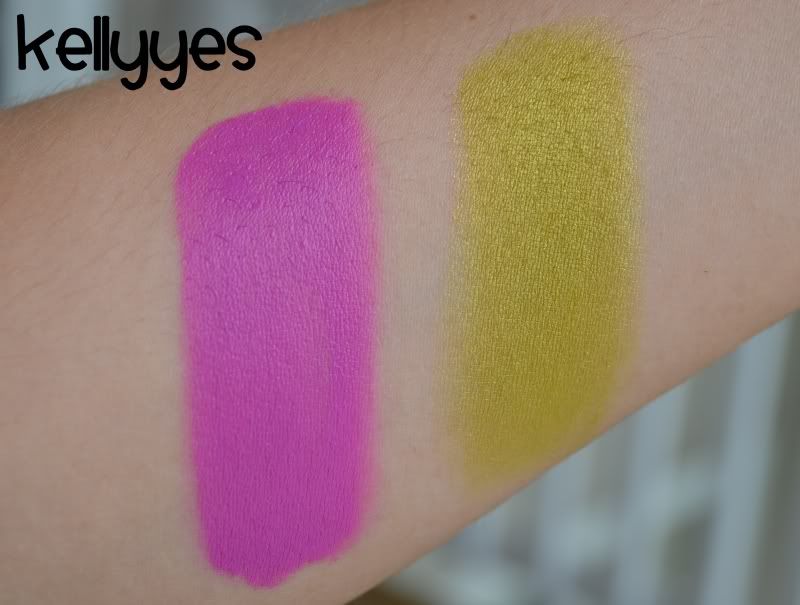 ccb in madly magenta on left, sweet & punchy e/s on right
mac nail varnish in imperial flower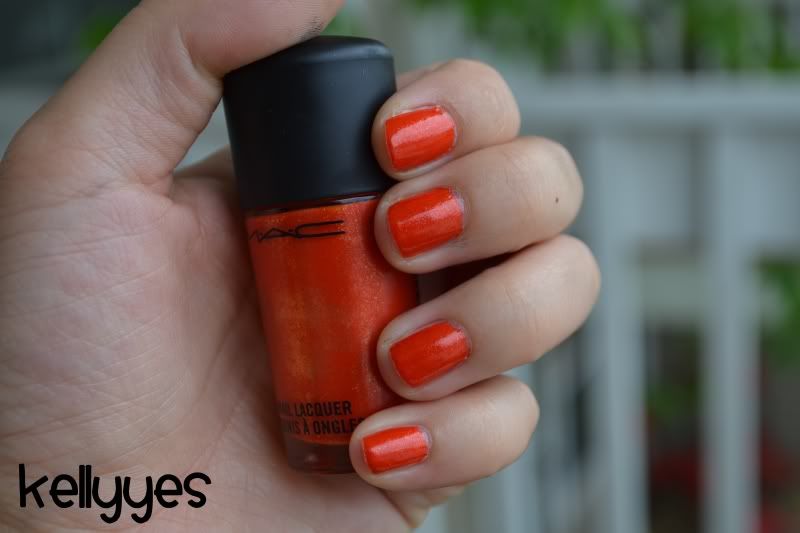 this was my on the whim buy. this polish came out last year with the fabulous felines collection. at the time i wasnt interested in this shade because i was distracted by the jade dragon polish which i bought. but once i saw this at the cco, it reminded me a lot of dior's aloha polish plus i have been looking for a pretty orange polish to pick up.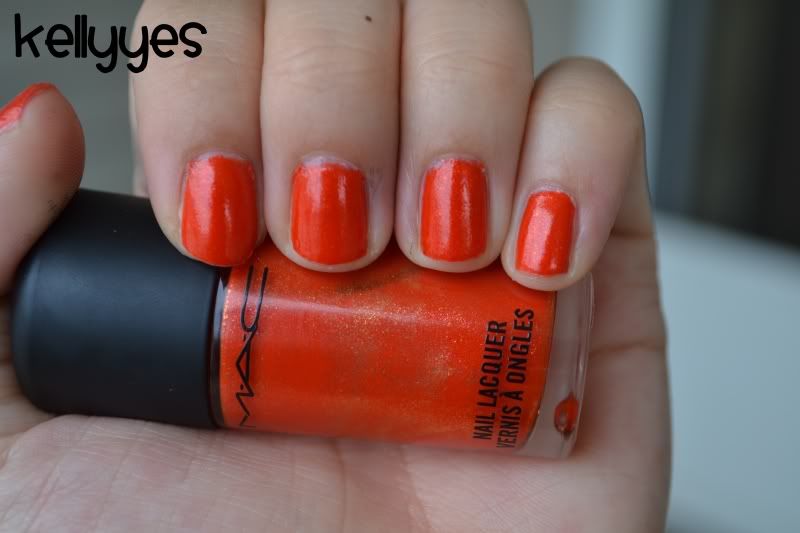 i really like this shade. i would say it is a reddish orange with gold flakes. its very summer appropriate and it definitely satiates my lust for dior's aloha. i think i like this more than aloha since it has the very subtle gold shimmers.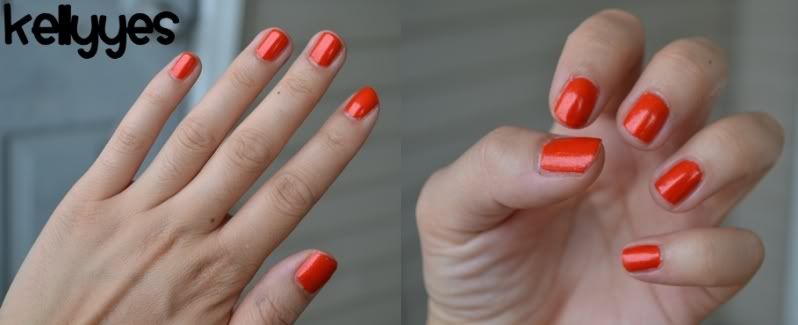 i would say this shade would look best on medium to dark skin tones. i know i will be rocking this a lot, especially with a tan!
that is all i picked up. i want to try to make a trip to another cco just to see what else there is to offer.
do you guys have any of these products? how would you wear sweet & punchy? it is such a funky color i'd like to hear what you would pair it with...