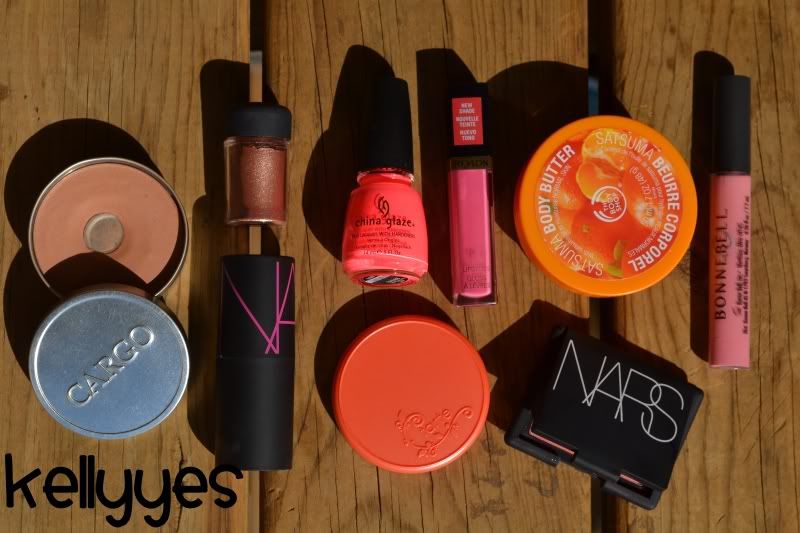 while picking out my summer beauty essentials for this post i realized a trend. i picked mostly pinky/corally/bronze shades. i promise i didnt do this intentionally but there is something about theses shades that just make it feel like summer to me.
bronzer
the one shown here is cargo's matte medium bronzer. i really like this bronzer but i dont think it is extraordinary. i have hit pan as you can see (because i use bronzer up like crazy) so after this one is done, i plan to pick up either a dior bronzer or chanel soleil de tan.
ANYWAY, enough of that little ramble...i love bronzer, especially in the summer. it just adds so much warmth and dimension to the face. i truly feel naked without it!
breathable blush
for summer most of the time i sport no nonsense makeup that is simple but put together. i feel like weightless sheer but pigmented blushes you can just dab on and go are perfect for summer. these nars multiple tints are really good but unfortunately limited edition (i dont see them on the website anymore!) the one shown here is my favorite out of the three, cadaques, which is a sheer bright pink. it looks really flattering with a tan.
shimmery eye shadow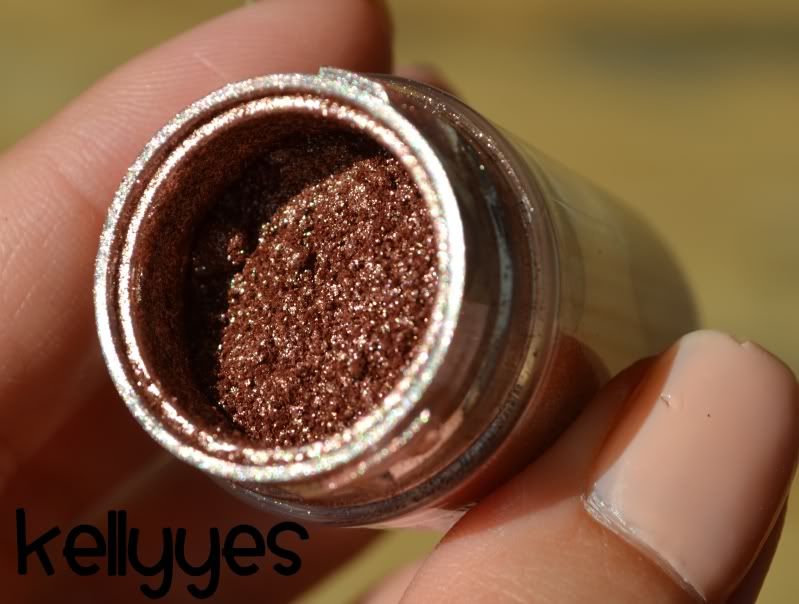 my favorite eyeshadow to use in the summer is anything shimmery so it can catch the light from the sun. here i used mac's tan pigment as the model for this section because i love this pigment obvi. i have mentioned this pigment before in my blog so i wont rave anymore about it.
bright nail polish
for me bright nail polish is a must during the summer. i have been giving a LOT of love to my china glaze flip flop fantasy polish, which is a neon coral pink shade. absolutely love this shade on the toes. i have worn this for multiple weeks straight and i dont see that changing any time soon.
coral blush
one of my recent purchases, but i keep reaching for tarte's tipsy coral blush to add some color to my cheeks. if i dont reach for this i reach of bobbi brown's pot rouge in cabo coral.
baby pink blush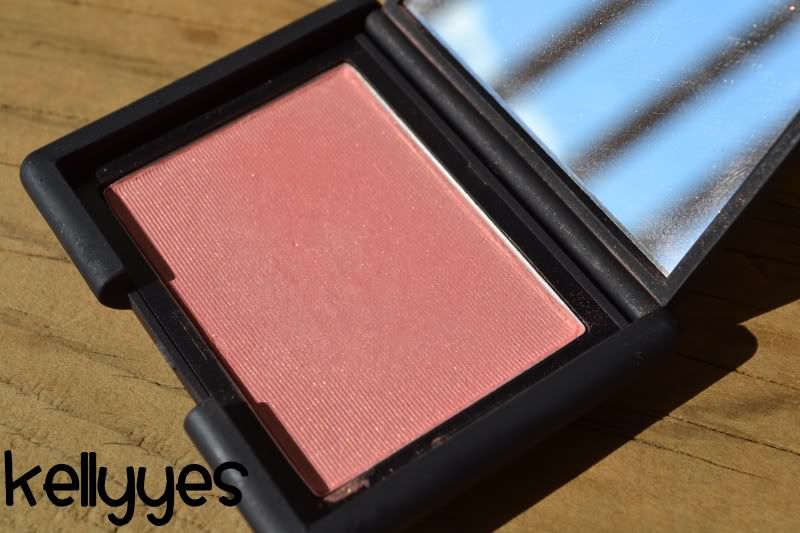 there is something about bronze skin and baby pink cheeks that just works. i have been obsessed with nars deep throat lately, especially paired with bronzer. it really perks up my complexion. i know not everyone is a fan of deep throat (some say it doesnt show up on them) but i am most definitely a fan. probably one of my favorite blushes of all time.
moisturizer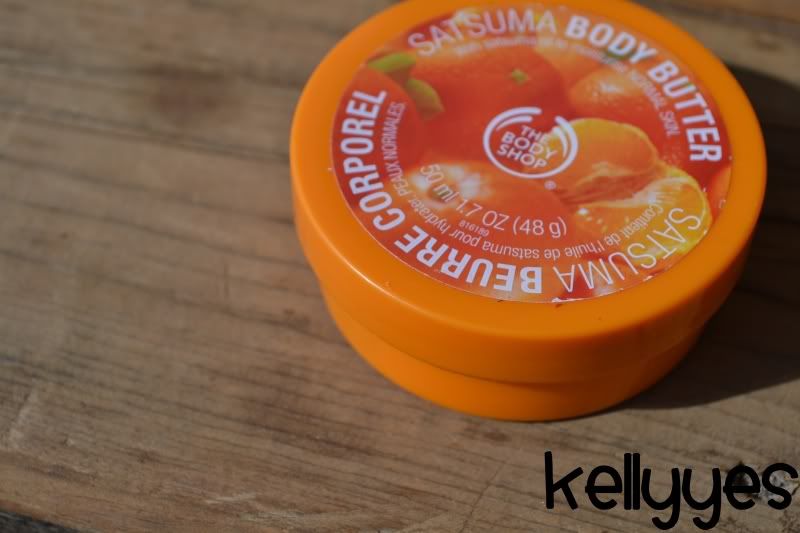 hands down my favorite thing to use for summer is satsuma body butter from the body shop. i never really understood body butters because i had only tried bath and body works (so greasy!!) but i tried this body butter from the body shop and i fell in love. the consistency is light and not greasy and the scent is so divine and fresh. just like oranges but better. plus the scent lasts most of the day! i used this up like crazy in cali and everyone kept asking "what's that smell?!?" haha.
lip gloss
i will be honest, for everyday i dont even bother with lip products. i just slap on some chapstick and go because it will rub off anyway. but for summer i usually get in the habit of applying tons of gloss to add to the dewy summery look. i have mostly been using up my revlon super lustrous glosses (pink pop is pictured) and i am trying to use up this bonnebell lipgloss in strawberry parfait. i like the milky color and smooth texture but the scent makes me a bit nauseous.
swatches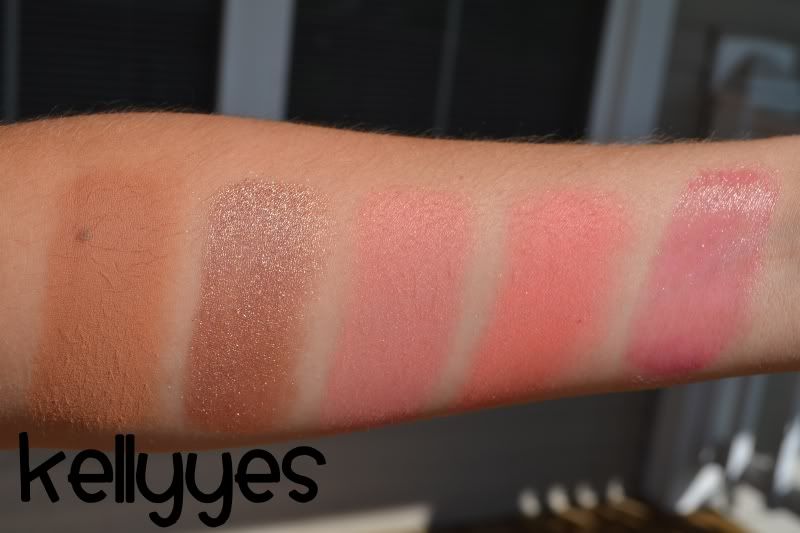 (from left to right) cargo bronzer, mac tan pigment, nars deep throat, tarte tipsy blush, nars cadaques multiple
what are your summer essentials?