my hair. it used to be the bane of my existence. now we both are on talking terms and try to tolerate each other. in all seriousness, my hair has always been a battle for me. ready for a long story (if not...skip below to see pictures of my natural hair vs styled hair)?
from infancy to around 12 years old i had easy to manage straight hair. once puberty hit, my hair went from straight glossy locks to a wavy frizzy mess. once i got to high school, my locks turned into curly ringlets. to deal with the sudden change, my hair spent a lot of time in braids and buns. i rarely ever wore it down.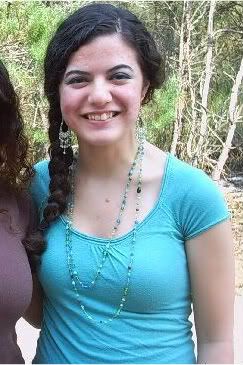 the braid. this was during my senior year of high school. i look fabulous, i know haha.
during my high school years i loathed my hair. i just wanted my straight perfect hair back so i could do cute hairstyles or just wake up and go to school like everyone else (if you have naturally curly hair, you know what i mean. it must be styled someway to be kept tamed!) instead i was stuck with my long, curly, thick, unmanageable hair. my parents did not allow me to use any hot tools on my hair. they loved my natural hair texture and style. i continued with the braids and buns...occasionally i would diffuse my hair and wear it down, but by the middle of the day i would put it back up in the safe bun/braid. i dyed it once, a lighter brown shade, but i regretted it. i hated waiting for the color to fade away! i never dyed my hair again.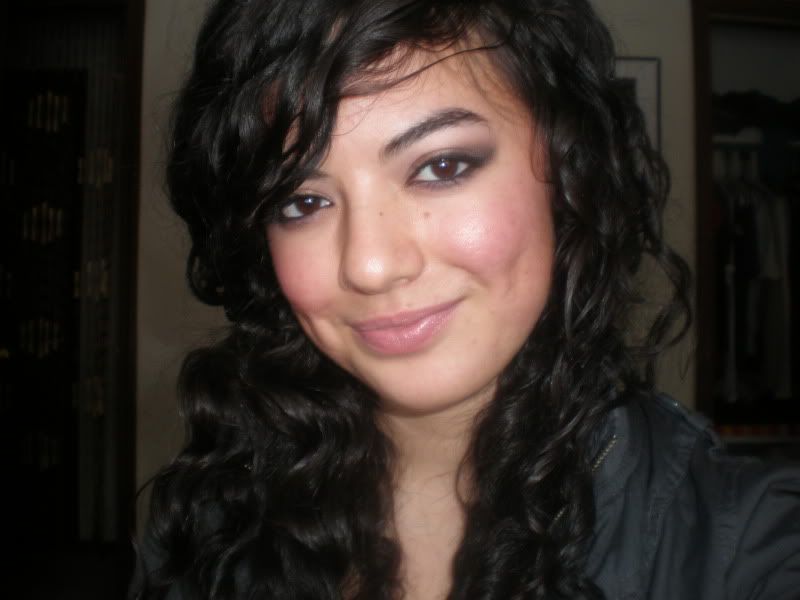 my hair, styled with gel, mousse and pinned halfway. this was my junior year in college.
once i went to college, i had begun to embrace my curly hair. i experimented with layers and different products to make my hairstyle manageable and started to wear it down, or at least half-way down, often. the volume of my hair also got manageable, it used to be so thick i couldn't handle it all. it became a "normal" thickness. i still wished for straight, or even wavy hair. i decided to take matters into my own hands (now that i was away from my parents) and try my hand at hot tools.
i first tried a basic drugstore straightener...conair. horrible. sure it made my hair straight, but it was puffy and frizzy still, not the sleek style i imagined.
next i tried the CHI. my friend had a CHI and begged me to let her straighten my hair with it. i allowed it. i ended up with slightly better results than the conair, so i wasn't impressed. i had given up. if the famous CHI straightener couldn't tame my locks, what hope did i have?
skip to last summer. I was wedding gown shopping with/for my best friend
who got married this summer.
the other bridesmaids came along as well. one of the bridesmaid's mother is a hairstylist, so naturally her daughter had access to the neat tools to try...and she had a GHD. i had heard of the GHD from
blushingpixie
, but i was skeptical. if the CHI didn't work on my difficult hair, i doubted this expensive tool would. regardless, i was curious so i asked if i could take it for a spin. and that, my friends, changed everything.
words can't express my love for my GHD. it does everything i have been dreaming about since puberty: sleek, shiny, straight hair! i was amazed. something finally tamed my crazy hair. to show you what i mean....
my natural hair. no products, not styled, natural color.
all i did was shower the night before and wake up to this. i prefer showering at night, my hair takes forever to dry!
styled with the GHD.
on me, i don't like the stick straight look. i prefer from the roots to about 3/4 down to be straight with the ends curled. it looks more sophisticated and voluminous.
the back of my hair.
ever since my GHD, i RARELY ever wear my hair naturally curly anymore. don't get me wrong, it isn't that i hate curly hair. i think some girls really rock it and it looks magnificent on them. but on ME, i really prefer the sleeker and smoother look. with curly hair i seem to look about 5 years younger than my normal age. i think with the GHD styled hair, i look the right age. once i have a solid career and money to blow, i am definitely investing in the brazilian keratin treatment.
well that is my (long) hair story. what is yours? i love reading people's hair history. im sorry i dont have any pictures of my hair during my youth to show you...i dont have access to the pictures at the moment or a scanner. if you want to do a post on your own hair history, link it below so i can read!
have you tried the GHD? if you have curly, thick, or coarse unmanageable hair i can't recommend it enough. if your hair is already straight, thin, or fragile i don't think this is the best option for you since it will probably fry your hair (there is only one automatic heat setting and it is extrememly hot!)