i had an event to go to for valentines day. i didnt really take pictures, so i stole some from my roommate who did :)

forever21 strapless dress. parrin shoes from aldo
i actually don't really care for this dress at all, but it was cheap, i had it in my closet, and i didnt want to spend anymore money for a new dress. plus the pattern just screams (obnoxiously haha) valentines day. the shoes are from aldo, as i said in a previous blog, which i purchased recently (another reason i didnt need a new dress). they are very high heels, a bit hard to walk in if you arent a heel queen. but i managed ok in them for about 4 hours :) and they are so gorgeous. i love them!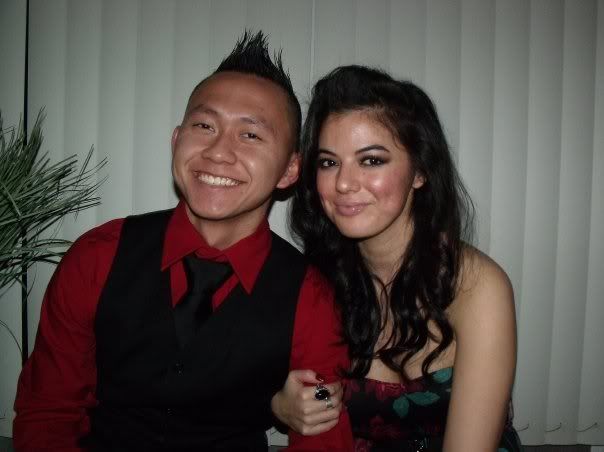 for my face, i wore nars concealer custard concealer for covering blemishes. light dust of CG powder all over. benefit's hoola bronzer. bobbi browns pot rouge in blushed rose (my fave blush ever!) with a tiny bit of benefit dallas over to set it. i also used NYX jumbo e/s in cottage cheese as a highlight on my cheekbones and dusted Physicians Formula shimmer strips in vegas all over my face, chest and shoulders.
for my eyes i used a mixture of things. NYX jumbo e/s pencil in black bean, NYX e/s in reb bean pie and rust. MAC shroom for highlight. urban decay 24/7 eyeliner in zero. HIP truth cream liner in black. NYX false lashes. Hourglass superficial lash mascara.
for my lips i used my fave combo, MAC's myth and L'oreal HIP lip jelly in plush.