I thought I'd start a series called "thoughts of the week", an idea I completely copied from
Jessica
. These are some of my favorite posts that I look forward to reading on her blog and my philosophy when it comes to blogging is to always put out content I would want to read myself. So here's to the first installment! I'll try to make this a weekly thing, perhaps even on the same day. Look at me, all trying to be routine-y.
1. I have been quite engrossed with Mindy Kaling. I actually have never seen anything she has been in (I never watched The Office, don't throw stones at me), but in the past I would see her frequently popping up on my twitter and tumblr feed. I was finally prompted to read her book, "Is Everyone Hanging Out Without Me? (And Other Concerns)" after seeing a friend post about it. It wasn't boring and I read through it quickly yet it is not the funniest I have come across. Still, I love reading about the beginning struggles of the successful and now I have the urge to start watching her show.
source
2. Speaking of reading, my birthday is next week and my boyfriend surprised me with an early present, a Kindle Paperwhite! I was actually very taken aback he got me this since I mentioned it only in passing this past November. I guess guys really do listen...sometimes :P Any recommendations are welcomed. My GoodReads account in case you wanted to get an idea of my reading patterns.
3. I ran across this article earlier this week about a family who stopped eating sugar for an entire year. I personally think it is a bit of an extreme measure. Although, I do agree that the general population consumes more than their fair share. Thoughts?
4. I liked this post about preservatives and why they are necessary in most of our beauty products. I don't understand how they got such a bad rep, perhaps because they sound too "chemical"?
5. Already thinking about what to try next after my great success with Clarins Lotus Oil, something like Sunday Riley's Artemis looks promising. The price is slightly nauseating.
6. My sister is one of those fickle purchasers that refuses to finish up products and buys a new replacement halfway through its use. Her recent pickup was Victoria's Secret True Escape lotion which I initially dismissed because Victoria Secret scents remind me of a mixture of over-tanned college freshmen and strippers. I randomly slapped it on the other day and couldn't stop sniffing myself. It is quite fresh and light but also has a bit of warmth and sweetness to it. Squirt some on the hands next time you are in VS and let me know what you think.
7. Game of Thrones is back \o/ But I haven't been able to watch the premiere due to school so no spoilers!
8. This weekend I am going to see Hardwell and I am very excited. The only thing that makes me wary is the venue is 18+ so the likelihood of me wanting to murder a majority of the crowd is extremely high.
9. Recently I watched the cult movie Heathers for the first time and was highly, highly entertained. It is on Netflix so if you have an account you have no excuse, go watch it. Be ready for high fashion 80's blazers with exuberant shoulder padding, frequent monocle use, and witty dialog.
source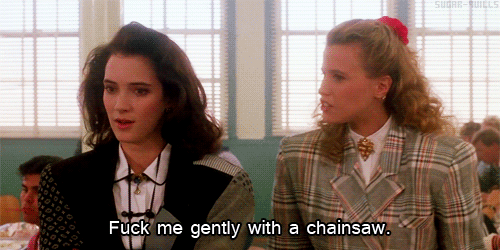 Oh yeah, there is a lot of profanity too ha.
10.
Louis C.K.
hosted SNL and then
Anna Kendrick
followed and I haven't been able to watch either yet. Only a couple more weeks of school...