I think greige (grey + beige) nail colors will always be in style. It is neutral, makes fingers look longer and more polished, and it seems to be a shade that is at a comfort level for all ages to wear. My mother loves colors like this on her when they lean more to the beige side. Though I do like the greige nail every now and then, my heart never goes aflutter when I wear them. I will admit that it is nice to take a break from my usual dark polish of choice though.
SHADES OF GREIGE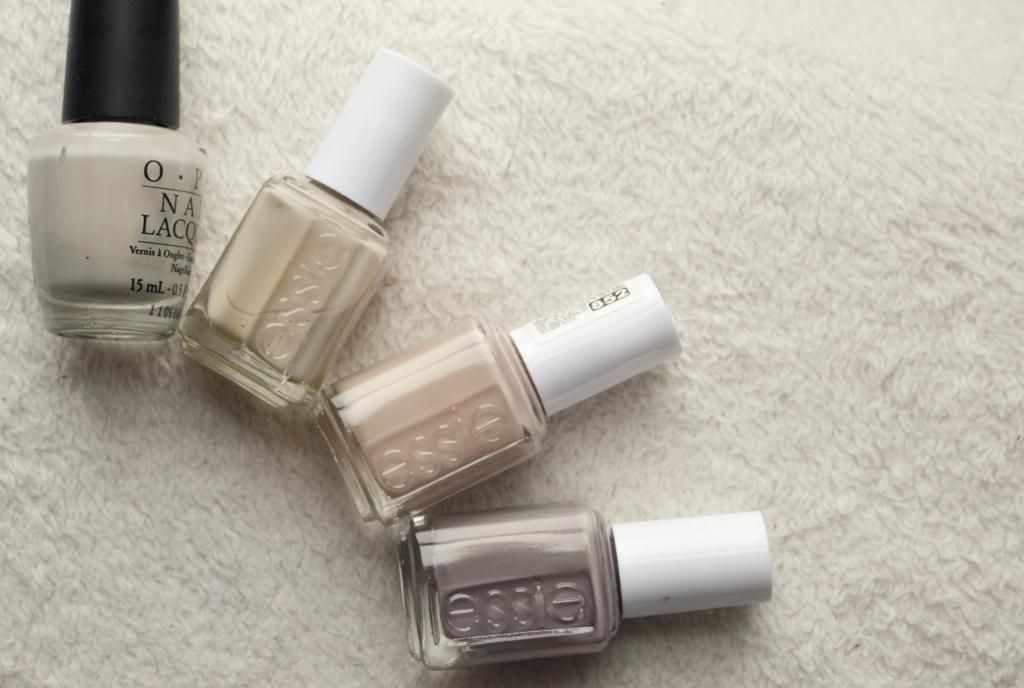 OPI SKULL & GLOSSBONES, ESSIE PLAYA DEL PLATINUM, ESSIE SAND TROPEZ, ESSIE CHINCHILLY
My greige polishes are all different, thank goodness. Makes me feel better knowing I don't have the same shade in 1029897234 different bottles. These colors are the reason I skipped out on Chanel Frenzy, which looked pretty similar to these colors. OPI Skull & Glossbones is a pale moon grey. I think the beige in it only lightens the grey color. Essie Playa Del Platinum looks like wet clay, a bit of dirtiest to it to emphasize the beige. Essie Sand Tropez is cleaner sandy grey. The warm beige in it makes it look slightly pink when comparing. Essie Chinchilly isn't very greige at all, I would consider it straight up grey with a purple tinge to it.
On my hands, Playa Del Platinum comes off greyer than what is portrayed in the bottle. I quite like this since greys are fun for me to wear. The formula is one of Essie's nicer but not the best. I did three coats as two looked a bit patchy. It was no where near the nightmare Essie Sand Tropez was!
What do you think of greige nails? Too boring or just right?